With Happy D.2 Plus, Duravit has teamed up with Sieger Design to realise current trends in colours, design, and finishes. The archetypical open oval of the Happy D. design classic also runs through the elements of this new, supplementary range. Above-counter wash bowls with precise lines, stand-alone consoles and matching semi-tall cabinets as well as circular mirrors combine to create perfectly harmonized washing areas.
In 2020, the series was extended by a new development – Happy D.2 Plus c-bonded. The innovative, patented c-bonded technology was developed by Duravit in order to meet the highest design requirements in the bathroom. The furniture washbasin is connected almost seamlessly to the vanity unit in a complex process so ceramic and furniture merge to form a single unit. This special look produces an exceptionally-sleek washing area.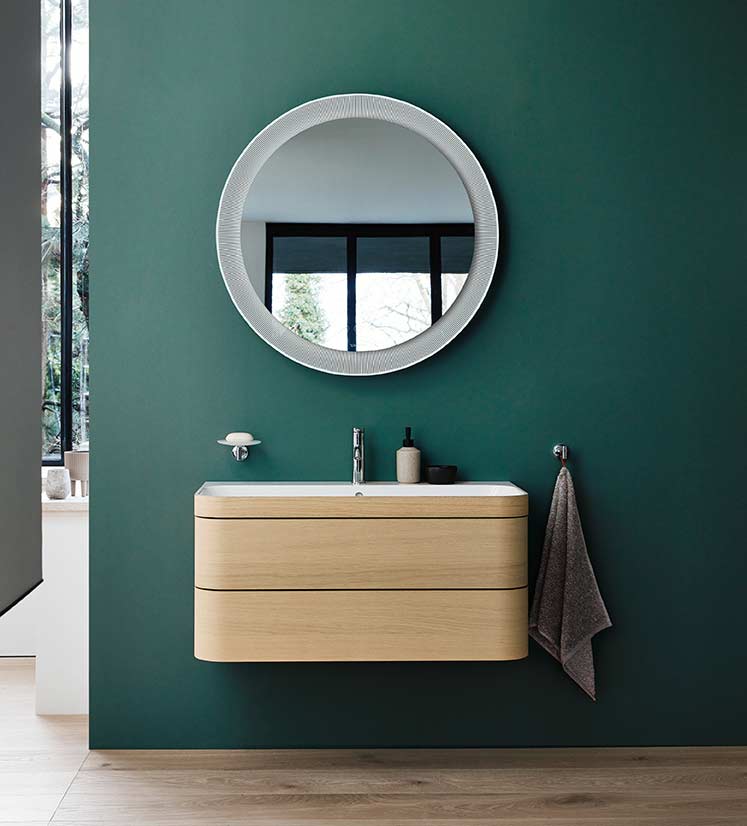 For the first time, c-bonded now comes with a rounded outer edge. The frame is always in the same colour as the vanity unit or to match the metal console in Black Matt. This continuation of the Happy D.2 Plus series guarantees that the ceramic washbasin and furniture run in perfectly parallel lines with no overhang or recess and a precise gap
of 4 mm.
The basins come with a narrow, typically flat edge and harmoniously integrated tap platform. They are available in three widths (575, 775 and 975 mm). A white acrylic cover conceals the fittings beneath the basin, guaranteeing perfect aesthetics from any angle.
The floor-standing, height-adjustable metal consoles in Black Matt with integrated towel rail can be delivered with an optional shelf or built-in drawer.
A further option is a seat (width 625 mm) featuring an integrated drawer that can be added as a practical extension of the console on the left or right. Duravit also offers a cushion in matching Greige made from a woven fabric suitable for wet rooms.
Wall-mounted vanity units with two drawers provide additional storage space. These are available in a total of eleven carcass surfaces, one can choose between luxury wood or matt surfaces in light or dark. The Graphite Super Matt variant also comes with an anti-fingerprint coating. A high-class interior furnishing system in Maple or Walnut can be selected as an option.
The new washing area variants can be ideally combined with all elements from the Happy D.2 and Happy D.2 Plus design series, ensuring a consistent design for the all bathroom furnishings. Happy D.2 Plus offers a consistent colour concept with toilets and bidets in Anthracite as well as bathtubs with seamless panelling in Graphite Supermatt – harmonising perfectly with the black metal console and dark furniture surfaces.