Ritik Ceramics' showroom in Mumbai is a fine blend of simplicity, creativity with a contemporary touch, making it an ideal choice for the consumers who believe in classy experience for their modern living spaces, explores Remona Divekar
Today's times are not just about having great products but it also has become imperative to stay abreast with the modern, attractive design trends to appeal to the customers and stay ahead of the competition. A trend observed in high-end showrooms is that 'less-is-more,' concerning the displays, character, colour, texture and ambience to make the first right impression on their customers. A recent visit to a ceramic studio in one of the upscale locations in Mumbai sets an inspiring example to think and create differently. The artistic display of tiles and ceramic products in the lifestyle settings of the showroom speaks volumes of their superlative design capabilities.
Ritik Ceramics, located at Prabhadevi, an upscale location in Mumbai, boasts of an ultra-modern spacious showroom where convivial design elements can be experienced liberally in a spectacular and serene setup. By creating an informal space that is inspired by current gallery trends, it allows a hands-on experience alongside reception and hospitality areas. A brand wall of BISAZZA, an Italian company specialising in the production of glass mosaic for floor, glass terrazzo tiles and walls, adorns the showroom walls that welcomes visitors to experience the colourful journey of glass tiles.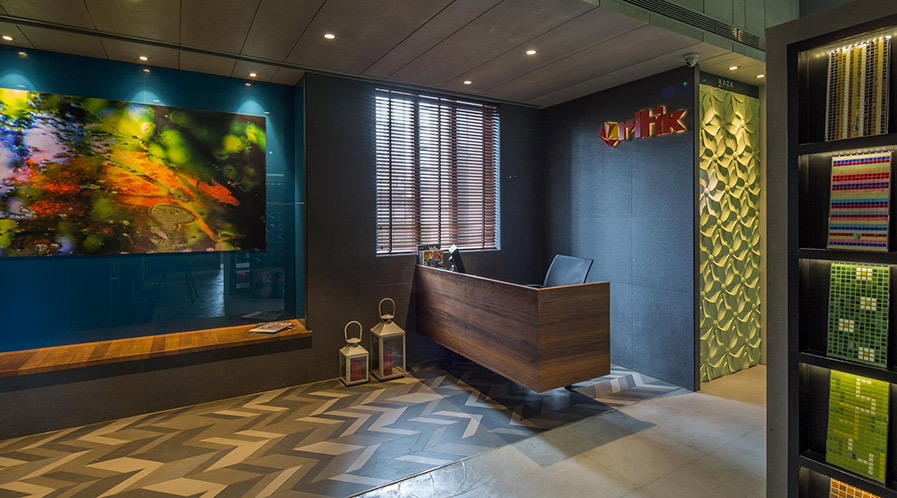 Proceeding further towards the exquisite collections of ceramic products, the presentation and the choice of display gives a soothing visual appeal of the brand's comprehensive portfolio. Blessed with the luxury of space, 6,000 sq ft carpet area adds to the beauty of the products where every inch reflects simplicity with superior craftsmanship, cosmopolitan appeal and stylish allure that are hallmark of the brands it has on its display. The showroom set-up appears more open and less cluttered taking full advantage of the island city's upscale location visibility.
Nitin Gandhi, Director, Ritik Ceramics Pvt Ltd says, "Considering the bliss of having large floor space, we have demarcated our large product range in different segments and zones, so when you move into that zone you get the look, touch, feel and experience of all the products of that particular brand without any mixups. For instance, we haven't mixed up Gessi with Duravit or Toto with Duravit or Catalano. They have their own specific regions and zones where they are evenly distributed where the customers can practically see their vision come to life stage-by stage."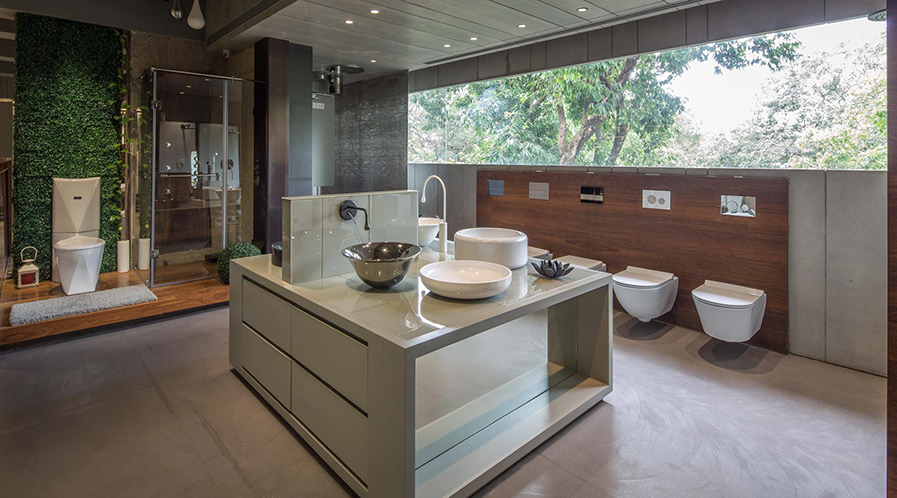 Planning, Designing and Execution
Speaking on the designing aspect of such a big space Gandhi articulates, "Being in this industry for over 25 years, the planning and designing of any kind of space for our products comes handy and easy, certainly with the architect's help. All three stores earlier put together were almost of this current store size. This space gave us room to play with unique design elements that were very modern, trendy, giving a reflection of clean-looking showroom. The showroom has a delightful vibe with a warm and inviting feeling." Ritik Ceramics' showroom has been designed by Amit Savoor of Design Culture. "Our association goes long back to 2005 when he designed our first showroom. He has designed all the three showroom – the second one in 2008 and this one in 2014," informs Gandhi. "
He further emphasises, "Rapport and clarity of design is utmost important to obtain what you exactly desire and that's what we did. Once the thought process was clear the execution became simple and the outcome is what you are seeing right now." For this space he says, "We briefed the architect about the total number of brands, panels, basins, WCs that was required to put on display. We, at Ritik Ceramics, even gave them AutoCAD drawings where there was clarity of design layout, with the changes wherever necessary. The layout changes required physically in the store were done only on paper and once finalised we didn't change anything. Textured and colourful elements at the entrance added to the grace and comfort of this showroom."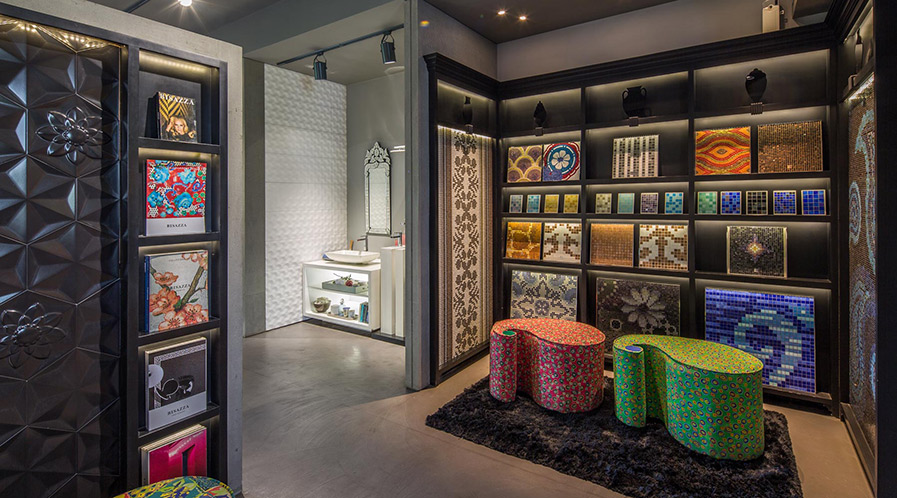 A visual walkthrough
Ritik Ceramic's showroom scores a perfect 10 for its minimalistic, inventive and versatile design basics. The showroom has a distinctive touch of modernity, equivalently balanced with creative design requisites which appear simple yet exquisite, eye pleasing, adding a flash of masterpiece to the array of national and international brands in sanitaryware they showcase. "It isn't enough to simply put out pretty tiles, or ceramic brands that one thinks will sell well. The purpose of the showroom is to engage the client and create a pleasant experience," affirms Gandhi.
The design and layout of this store ensures that consumers would never get a feeling of discomfort and claustrophobia in any corner of the room. It is a refined and uncluttered space that accentuates the consumer's encounter from the beginning till the end. Careful and detailed planning of its interiors gives a soothing and contemporary feel to the space. Most of the walls in this showroom are done without paint, except in certain areas. Subtle shades of grey are pre-dominantly used as they believe it enhances the overall look of the products, the products standout in warm hues.
"We are very particular about lighting as it plays a crucial role in determining the look and feel of the new space, enabling the product to be the hero of the showroom."
Flooring of this store is Epoxy, which is a very quick process of application, where just the product is poured and few strokes are given to the thin sheet; unlike previous others which were done in wood and brown with terracotta coatings. While maintaining the core values of the showroom of warmth and tranquillity, it is able to house array of ceramic products of various brands including 62 basins of all shapes and sizes, 19 WC's, live shower panels, functional faucets, showerheads, tubs, different size of bathroom accessories, plus hundreds of sanitary ware products including tiles all in one showroom with no signs of congestion.
Speaking on the importance of lighting Gandhi says, "We are very particular about lighting as it plays a crucial role in determining the look and feel of the new space, enabling the product to be the hero of the showroom. In the sanitary ware section, essentially keeping in mind the functionality of the space, we have tried giving warm lighting which we feel is just right for this section. Adding a natural light can help to make the space look more useful and inviting, for smaller areas such as showers and mixers subtle lighting is used, for the tile section there are backlighting areas, highlighting the LED strips given and all that is made possible without encountering any structural and design challenges throughout the process."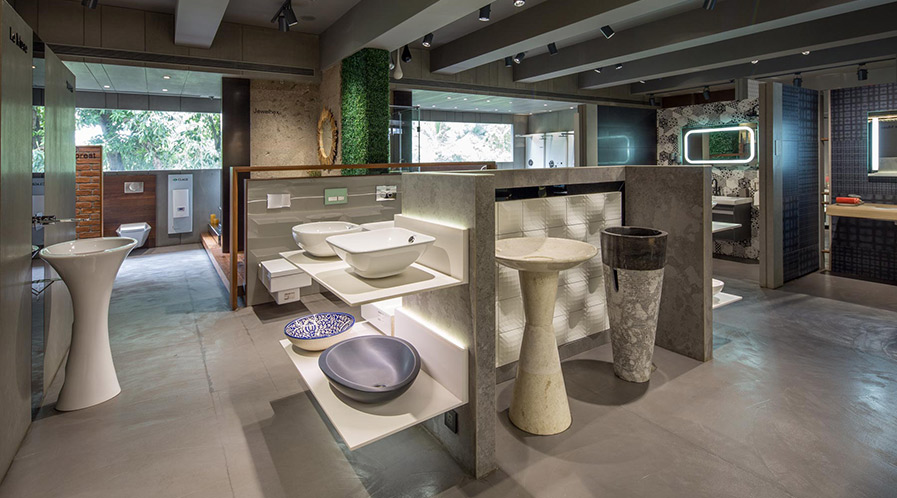 The Brands in the Showroom
The showroom not only reflects the clarity of space layout and integration but also the quality of brands displayed. Gandhi firmly says, "We are very clear and systematic of what we want to show and don't like to get into everything. Some brands are there with us for a very long time. The Japanese sanitaryware brand TOTO is with us since 2002 and has grown with us with its roots flourishing in India. Duravit and Catalano, the first Italian company to offer sanitary-ware in India, along with Sternhagen, sanitaryware and bathroom fittings brand from Germany, joined Ritik Ceramic's family."
Recently the new variations such as slim seat covers, colours that were missing in both TOTO and Duravit were added up to this segment to fill up the void. The showroom has also made space for Deruta, enamelled ceramics brand from Italy – a company that is abreast with the times and able to combine the historical roots with contemporary needs in the bathroom environment.
In faucets, Grohe was the first brand they started with, Hansgrohe joined in later and proceeding further with Gessi which eventually became the most popular and sought after brand in this section in terms of response and product portfolio according to Gandhi. He further quotes, "Gessi products were approved in some of the premium realty projects in Mumbai such as One Avighna Park, RNA Corp, Indiabulls Sky and Vascon Windermere project in Pune. Whenever we get into a project we normally try and give a complete solution to the whole project and not just in parts, thus we are able to cater to all the fancies, needs and expectations which the clients aspire and desire."
"The showroom has a distinctive touch of modernity, equivalently balanced with creative design requisites which appear simple yet exquisite, adding a flash of masterpiece to the array of brands it showcases."
On a positive note
Ritik Ceramic showroom inspires customers with fresh ideas and increased knowledge of today's trends and stresses on sustainable and exceptional products. The mission, according to Gandhi is to understand the idea of "the more you thought you know, the less you actually know".
The experience at Ritik Ceramics and the keen attention by the owners and staff provides a continuous process of learning about the changing consumer needs and the various ways to incorporate new products, to make it relevant for today's market and lifestyle. Besides it also makes the experience desirable and enjoyable.