25 Design Ideas for Indian Bathrooms – Trending in 2022
Bathrooms design ideas in India have become an essential part of interior planning. Here are amazing 25 bathroom design ideas for your bathroom space.
A bathroom is a space that is becoming as important as any other space in our home, so why not put in the same interest and effort in designing them?
It is a space where we find comfort and would like to spend some quality relaxation time after a long stressful day, so it does require a good design approach.
Here are some 25 design ideas for Indian bathrooms to implement when you're designing your next bathroom space:
Use trendy wallpapers
Unique lighting
Floating vanities and cabinets
Use an attractive mirror
Landscaping
Patterned tiles
Eye-catching colours
Select a particular colour
Opt for sleek fixtures
The right use of material
Narrow storage shelves
Adding decorative elements
Large window frames
Separate the wet area from the dry area
Unique flooring preferences
Add in a hint of brass fittings
Unique wall finishes
Seating for a large bathroom
Add a magazine or book stand
Install freestanding tubs
Wall hangings
Throw in some rugs
French glass doors as partitions
Experiment with showerheads
A clean washroom is an elegant washroom
Leaving your bathroom walls empty is one of the boring things you could do and who doesn't love spending time in an interesting bathroom that is well decorated? You could make your bathroom walls look bright and unique by using some trendy wallpapers that come in different colours and designs based on the overall style of your bathroom. We've seen a lot of wallpaper stickers used for bedrooms and living rooms, why not try implementing them in your bathroom as well?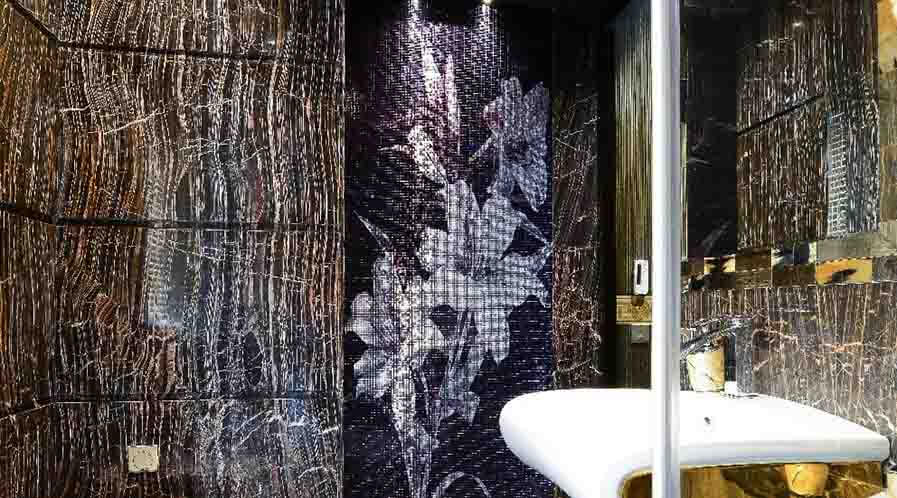 Most of the bathrooms in homes have one central lighting fixture, but there's a lot more you can experiment with the different types of lighting fixtures available in the market today. Different lighting fixtures help focus on different parts of your bathroom by making it not only functional but aesthetic as well. You can choose from a wide variety of options like pendant lighting, vanity lighting, cove lighting, track lighting, recessed lighting, task lighting, or even chandeliers for larger bathrooms.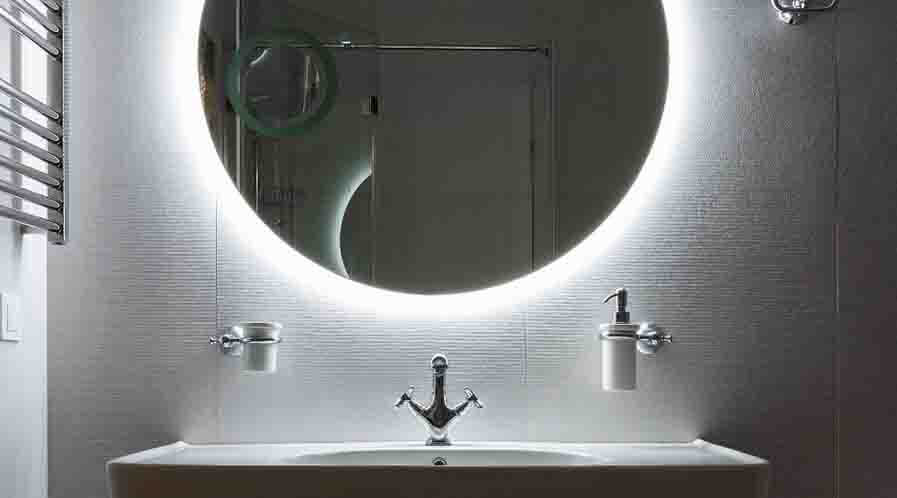 3. Floating vanities and cabinets
With growing technological trends, floating vanities have evolved from ordinary vanities. Floating vanities are wall-mounted vanities that are popularly used below washbasins. They come in different sizes, designs, and finishes to fit perfectly in your bathroom based on the fixtures that you have selected. They add the advantage of saving you some floor space giving your bathroom a more luxurious look.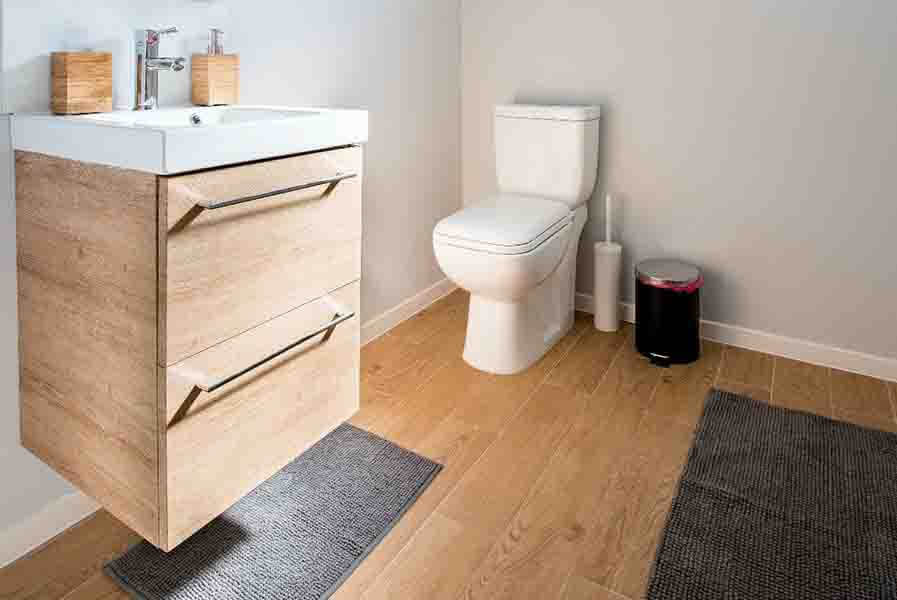 4. Use an attractive mirror
Large and elegant mirrors always become a focal point in any space especially in a bathroom which adds as a part of its' décor. Large mirrors add an advantage to the space by making it look spacious and bright, which is why it is best suited for small and darker shade bathrooms. These mirrors can be made even more attractive by setting up some cove lighting behind the mirror. It gives your bathroom a sophisticated feel and naturally greets you.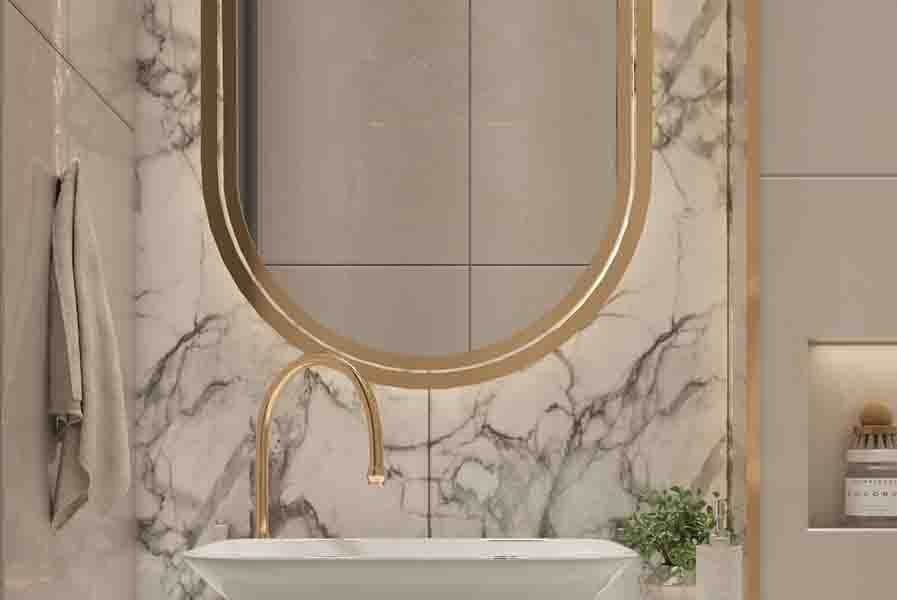 It is always necessary to bring nature into your home by adding in some natural elements. Since bathrooms are already considered as spaces for comfort and relaxation, adding plants would add that sense of freshness and keep the air circulation clean. Small pots could be kept near washbasins or even be hung near windows. You could even make use of pebbles and create an interesting landscaped interior.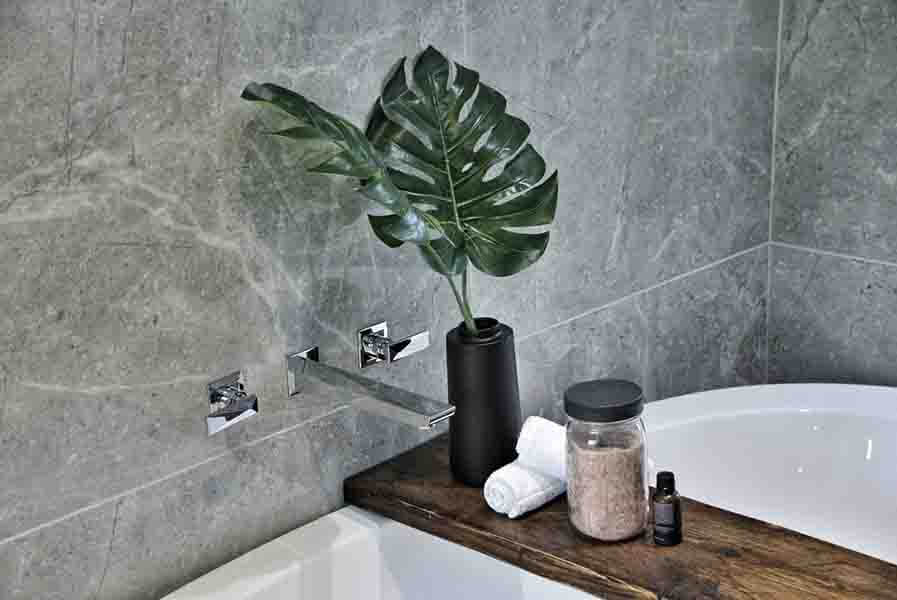 Huge patterned tiles always work well in bathrooms because of their ability to instantly draw attention through their intricate shapes and designs. Patterned tiles go well with any style of bathroom and can be used for both bathroom floors and walls. One of the best ways to use patterned tiles is to complement them with the other walls of your bathroom that are left plain. You can also use it in one particular area of your bathroom wall, for example, as a backdrop for your mirror.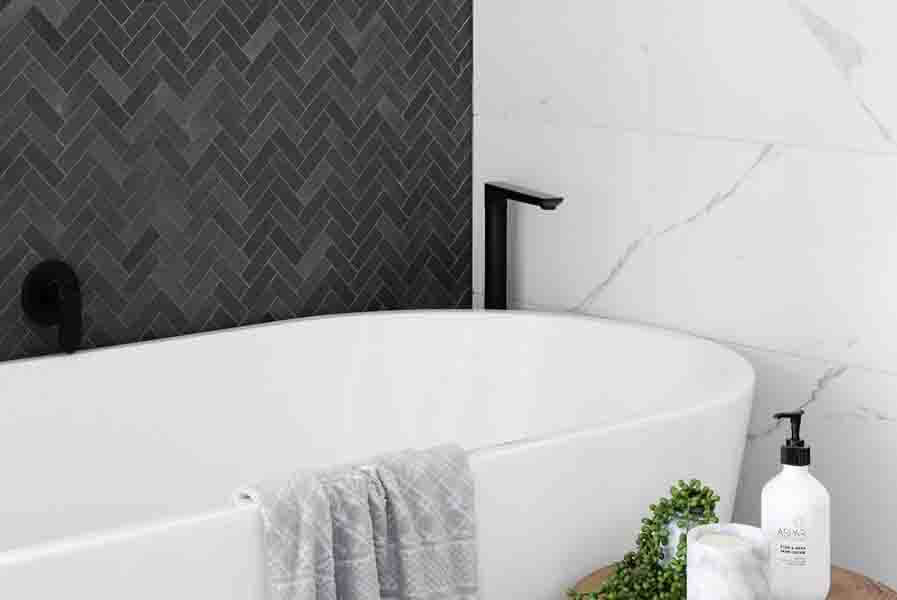 A good bathroom design includes a smart choice of colours that complement each other to liven up your space. It is important to design a mood board based on the style of bathroom you want. You can use complementing tile colours like white with blue, green, red, black, and grey, or even go completely white by creating a focus on fixtures and lighting.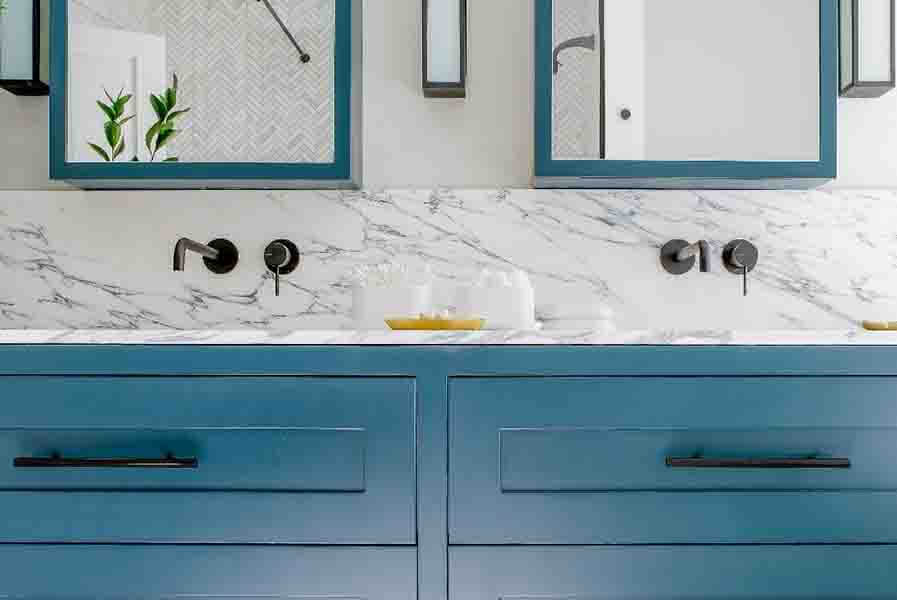 8. Select a particular design style
Every individual has their own preference in style and what better place to incorporate your personal choice? There are styles like Contemporary, Eclectic, Modern, Traditional, Beach, Minimalistic, Industrial, Mediterranean, Rustic, Scandinavian, Tropical, and many more you can choose from. You can also customize by mixing and matching two or more of these styles based on your choice.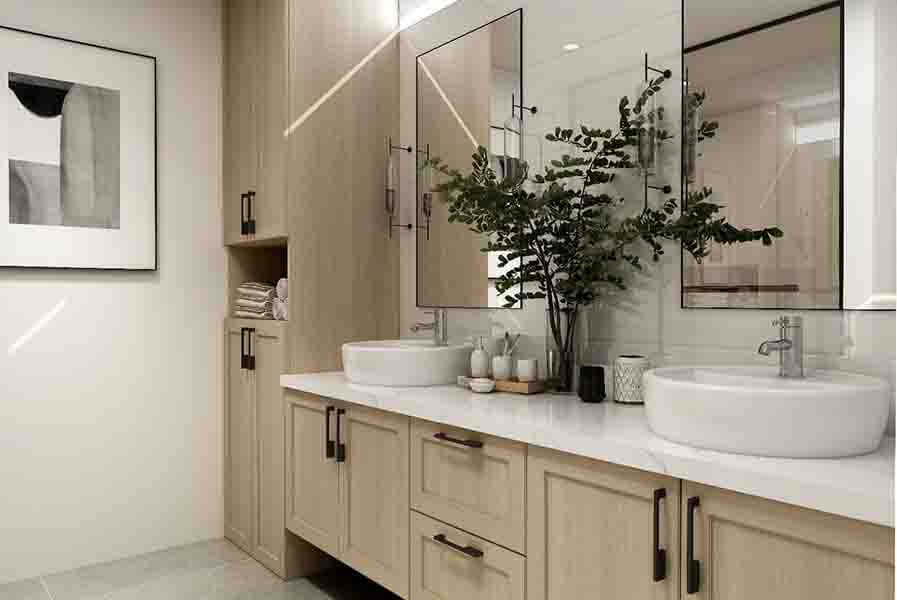 9. Opt for sleek fixtures
The majority of your bathroom consists of fixtures like WC's, washbasins, shower cubicles, bathtubs, faucets, and other gadgets, so it is important to invest in products that are durable and give your bathroom a luxurious and sleek finish. Well-engineered fixtures can also save you some water and energy with their latest technology. You also get a range of options from designs to colours you can choose from to perfectly fit into your bathroom design.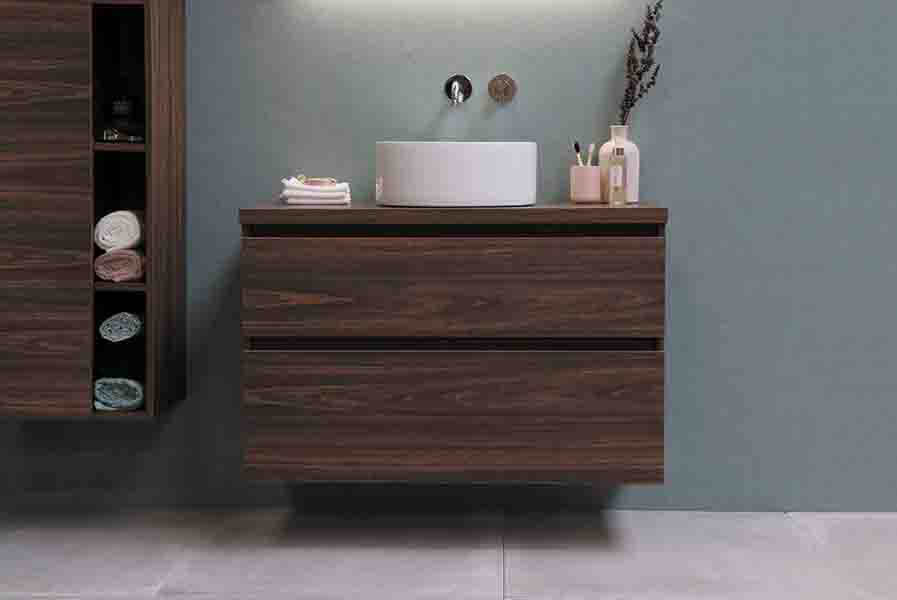 10. Right use of material
There's more to consider in bathroom designs apart from just the fixtures. It is very important to invest in good material finishes for your vanities and storage cabinets as well. Bathrooms are spaces that can trap moisture so it's necessary to make the right material choices for flooring, walls, and vanities. A slip-resistant flooring would be a good option so that it doesn't allow water to seep through. For walls, materials like porcelain, stone, and ceramic are very good options. Bathroom vanity products are made waterproof so that you have a wide range of options to select from.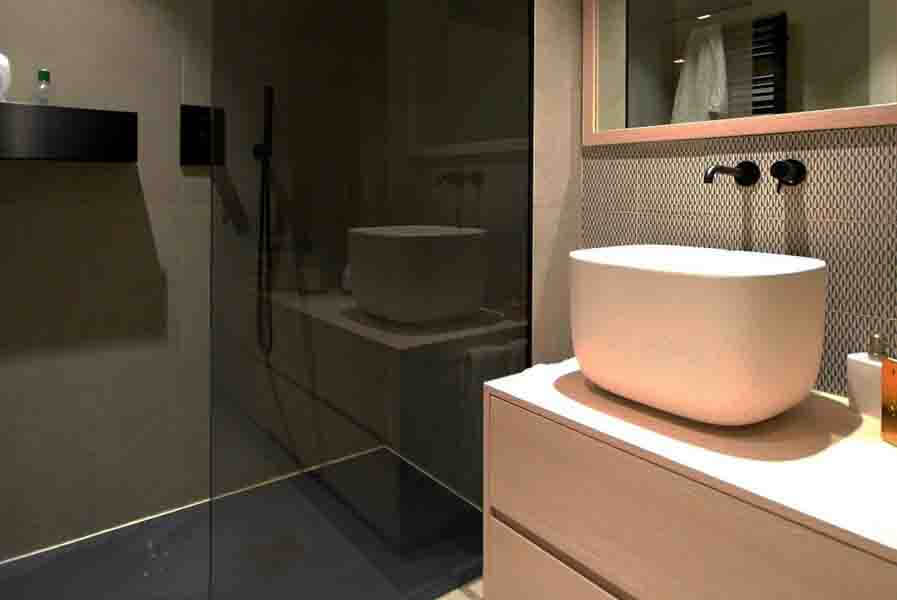 11. Narrow storage shelves
The more the number of storage spaces you provide the better, but that would be even better when it's narrow. Narrow shelves make it easier for the user to pick and use bathroom products, and at the same time make your bathroom look spacious. These shelves can be fixed on different levels and locations of your bathroom or you can also install some hooks both high and low for other purposes.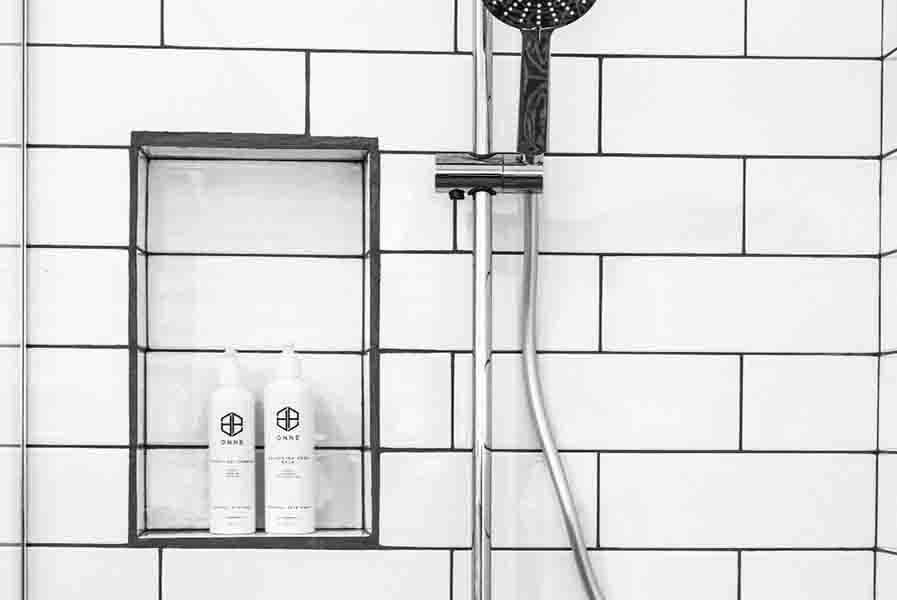 12. Adding decorative elements
Who doesn't love a bathroom that is appealing to the eye? You can place a focus centerpiece that adds to the décor of your bathroom. It could have scented candles or other fragrance emitting elements that could also help in keeping the environment inside fresh. You could also add in some DIY mason jars or even a small vase of your favourite blooms.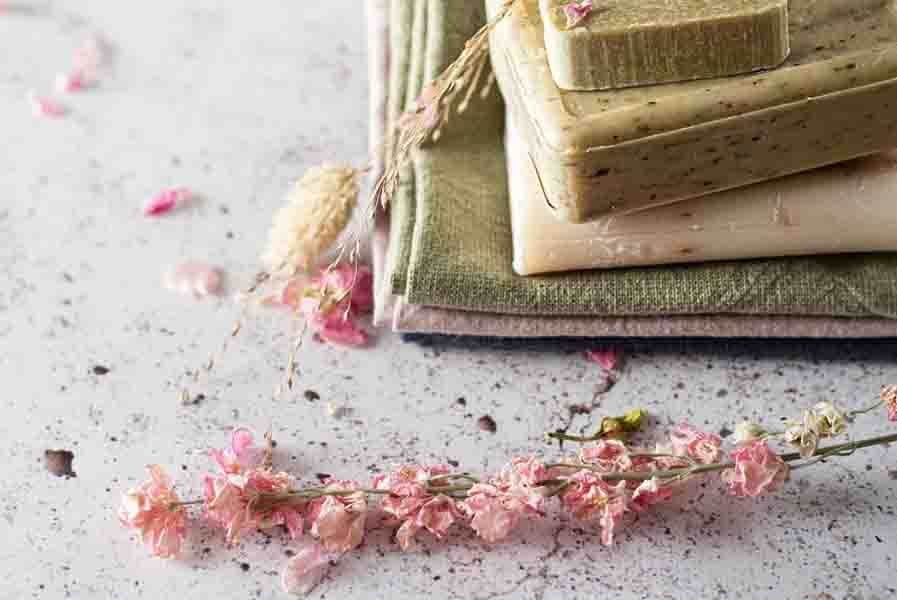 Windows play an essential part in bathrooms, whether small or large it provides better ventilation which is integral for bathroom spaces. If factors permit then large windows with a nice view would be an interesting choice. The choice of windows depends on the ambience of your bathroom. Large windows make your bathroom look spacious and also help bring in more natural light. You can also place these windows above head level to achieve the maximum level of privacy and still have a spectacular view.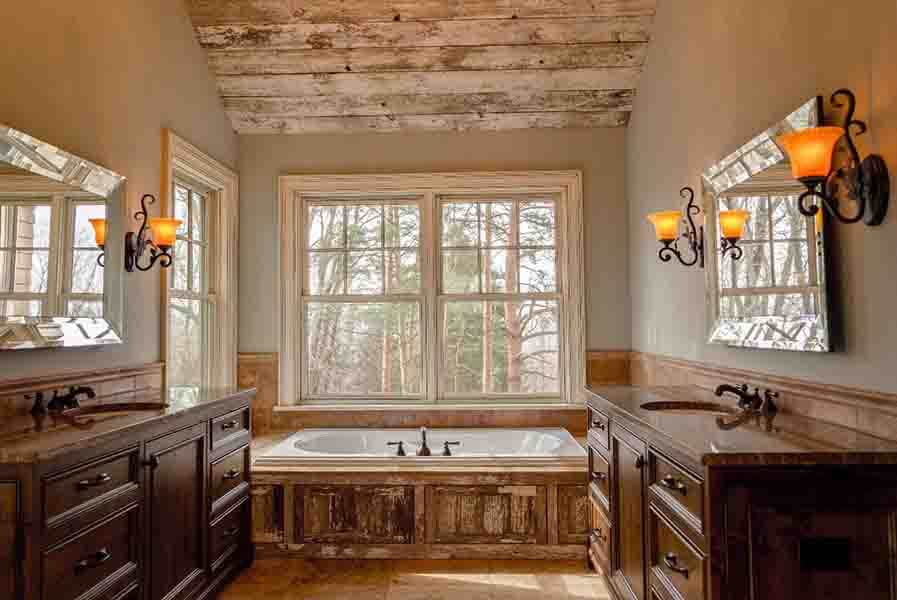 14. Separate the wet area from the dry area
It is very important to separate the wet areas from the dry areas in your bathroom for both safety and hygiene reasons. Water accumulation can cause mold and moss which can further cause the user to slip and fall, making your space dangerous. Shower areas and bathtubs should be separated from the rest of your bathroom space by providing some kind of boundary. You can think of interesting ways to create this boundary like, creating a sunken level difference of the shower area, installing some curtains, installing a glass partition, or even forming separate spaces for both areas.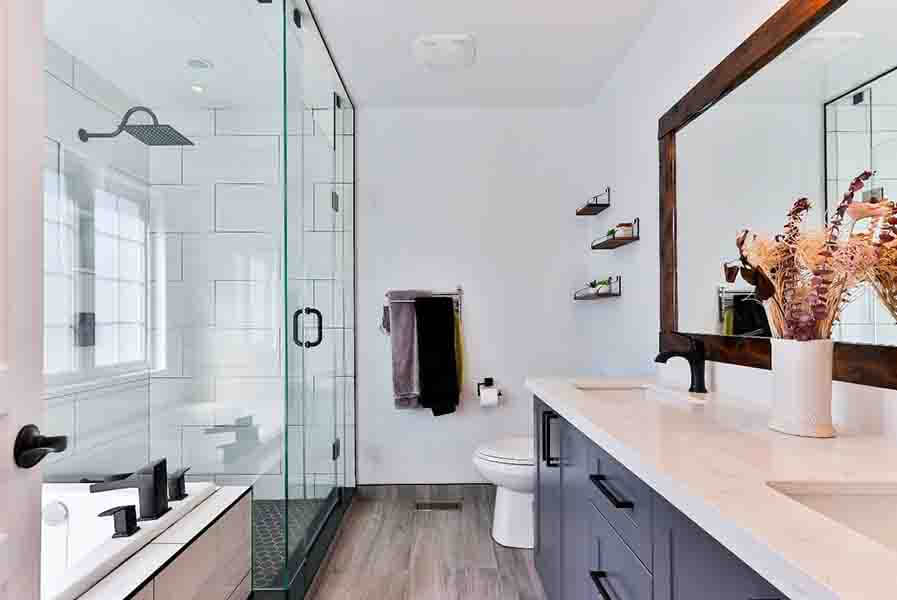 15. Unique flooring preferences
The flooring in bathrooms goes through a lot of cleaning, scrubbing, and bleaching, because of which it is important to opt for materials that are both durable and are appealing to the eye. Homeowners have started trying out unique flooring options like pebble tiles to give their bathrooms an interesting look. You could also place some pebbles over the flooring of your shower area to give a soothing and relaxing experience.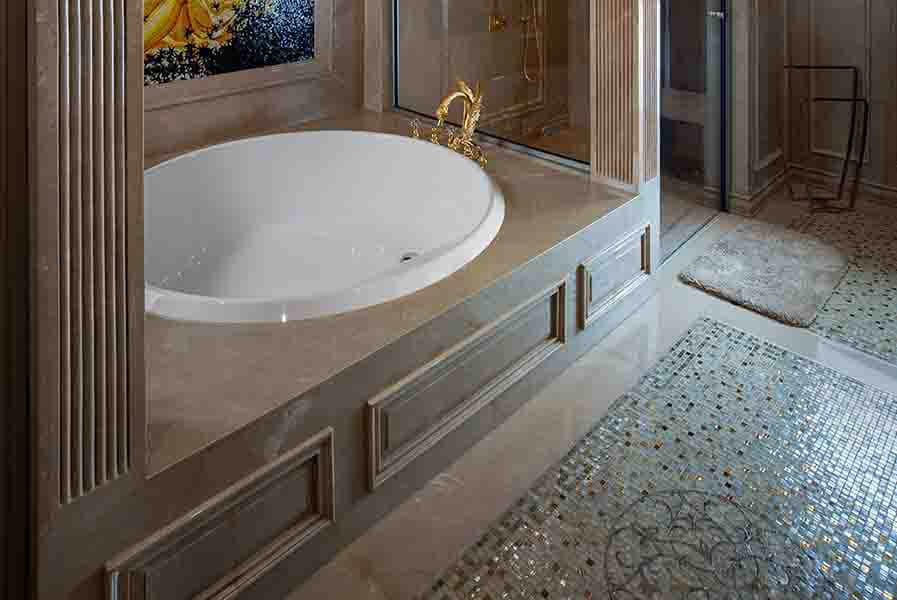 16. Add in a hint of brass fittings
Homeowners are shifting their preference from stainless steel fittings to brass fittings in their bathrooms. The main advantage of using brass fittings and fixtures in bathrooms is their property of being corrosion-resistant. In a space that experiences high levels of humidity and oxidization, brass fittings are a smart choice. However, they not only have functional advantages but are aesthetically appealing as well, which makes them one of the best choices for both vintage and contemporary design styles.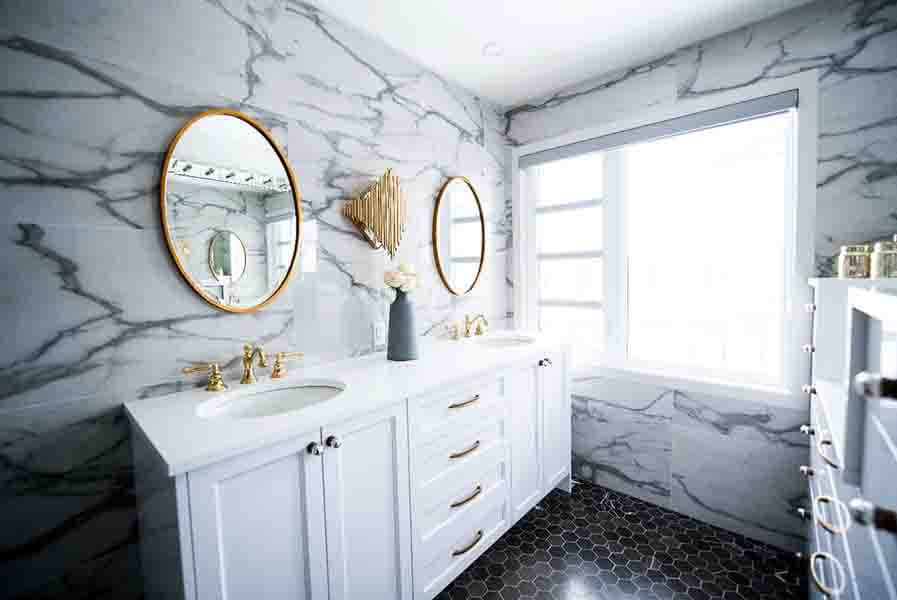 Unlike other spaces in our home like the living room, bedrooms, and kitchen, bathroom walls are different and need special attention. Bathroom walls are wet almost all the time due to which appropriate finishes must be provided to avoid moisture retention. The most common wall finish is a tile finish, but you could also use make your bathroom look interesting by using natural stone walls. Natural stone finishes are eco-friendly and you can find them in different textures and colours giving that natural feel to your bathroom.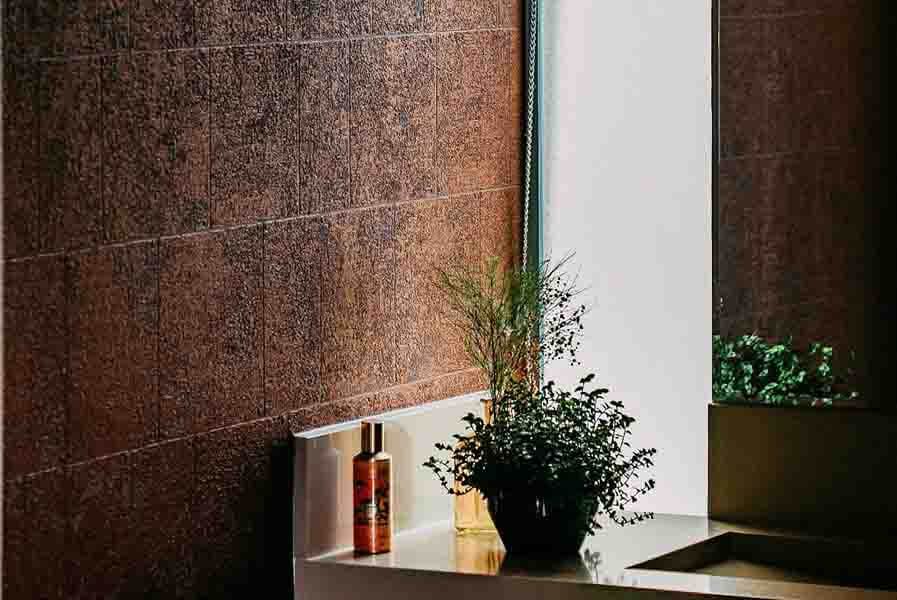 18. Seating for large bathrooms
The first seating space that comes to mind when we think of a bathroom would be the toilet seat, but what better than having a seating space to either read books or to get ready. It is a great option for those who have enough space to add some seating options. You can choose any seating option that works well with your bathroom design and style and place them either next to the bathtub or in front of the mirror. Larger bathrooms even have a separate lounge attached to them that can accommodate an entire sofa.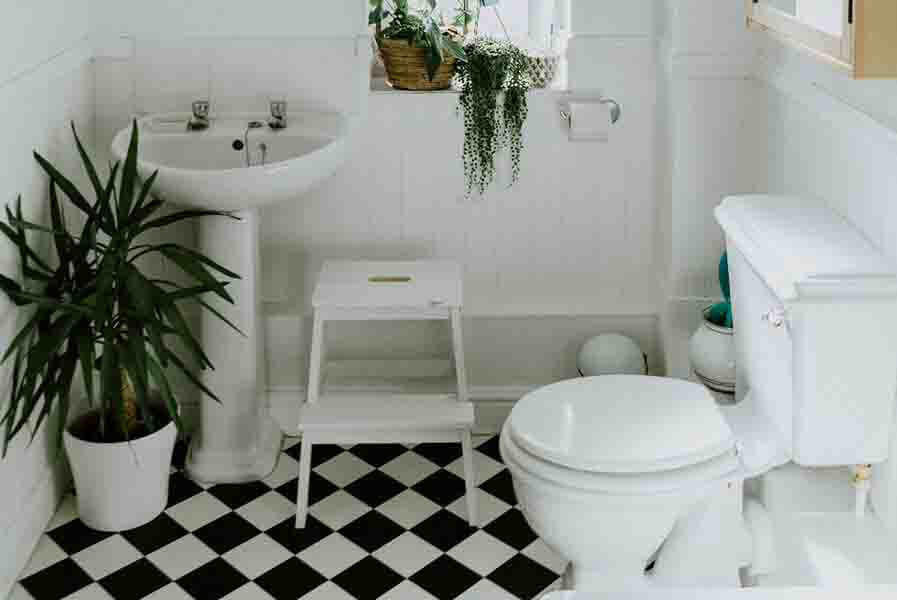 19. Add a magazine or book stand
Bathroom seating brings us to the next point of installing a magazine or book stand to initiate some kind of entertainment for the user. Since bathrooms are spaces that are used for relaxation by many, they would prefer reading. You could even hang a magazine rack on the wall next to your WC or bathtub if there is no space for an entire stand. There are many designs you can choose from that come in handy for any kind of bathroom.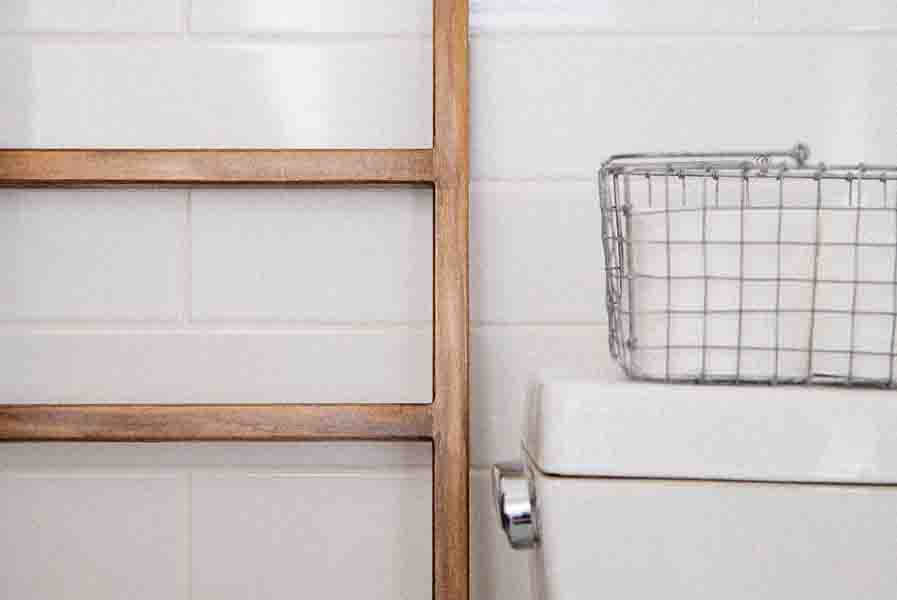 20. Install freestanding tubs
More and more users prefer installing a bathtub in their bathrooms but what's better than a freestanding tub that makes your bathroom look spacious and still provides the same comfort and relaxation as any other bathtub. One main advantage of these tubs is that they can be placed anywhere in the bathroom and do not have to be right next to a wall. They make a statement in your bathroom and come in different colours, designs, and materials from which you can choose. Freestanding tubs also come under the concept of futuristic washrooms.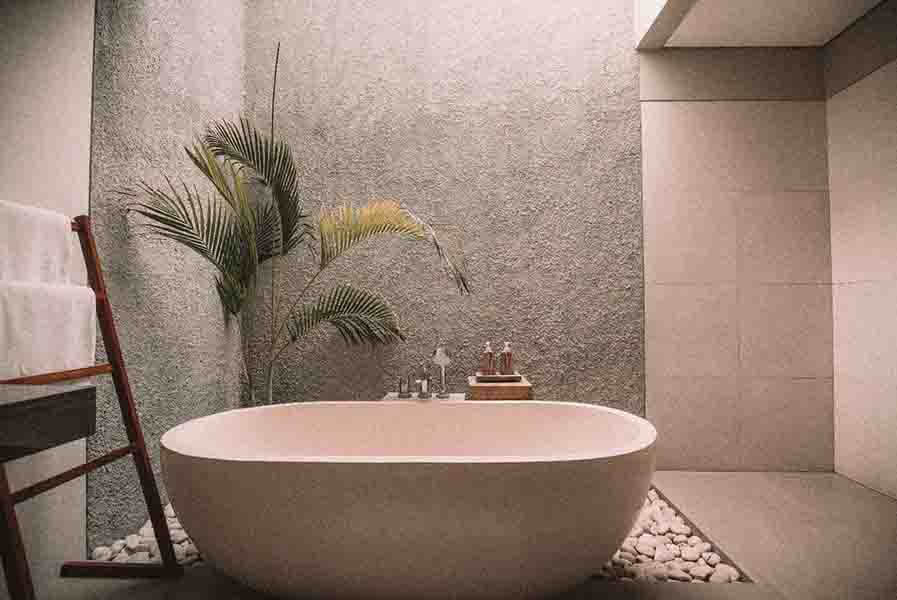 To make your bathroom look even more beautiful like any other space in your home, you could put in the same effort by adding in some frames and paintings on your bathroom walls or even experimenting with art. You can also combine these hangings with some plant hangings if you're more of a boho person.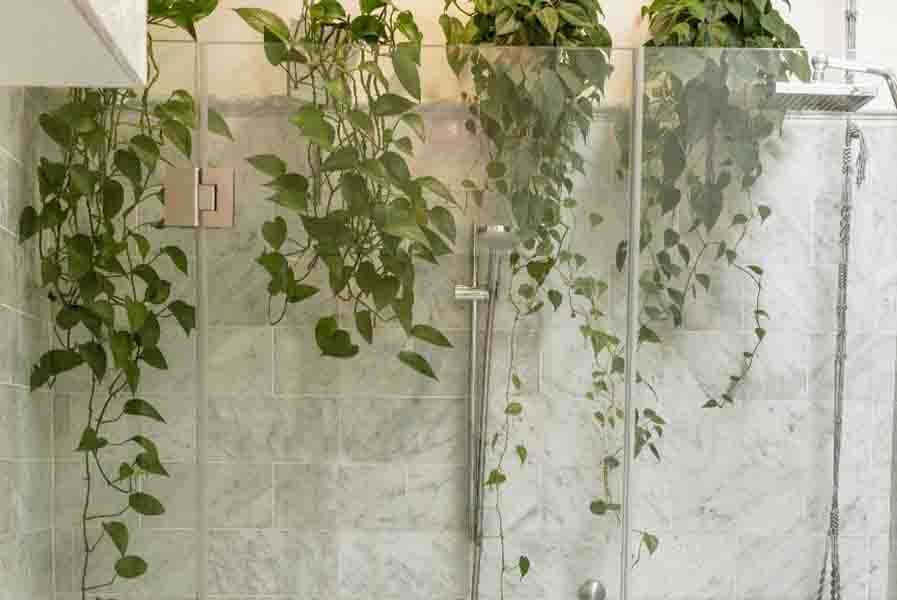 Anyone would love a soft and warm spot to stand on right after their shower which provides comfort for your feet that a normal tiled floor cannot give. It helps in maintaining the dry area and not mixing it up with the wet area of your bathroom which can save you from slipping. Rugs have multipurpose and can be paired with your bathrooms' design as they come in many beautiful patterns and colours.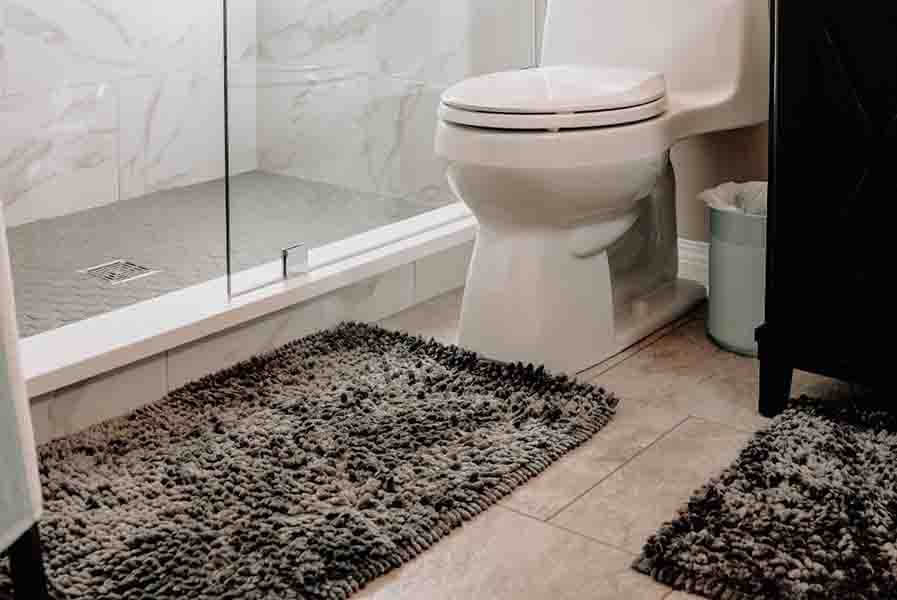 23. French glass doors as partitions
As we've already discussed separating the wet area from the dry areas, glass partitions were one of the options that you could choose from. A lot of modern bathrooms are now being designed with French glass doors to separate the shower area or even bathtubs from the rest of the bathroom space. Some of the homeowners even use it as a plain partition wall standing upright next to WC's or washbasins for aesthetic purposes.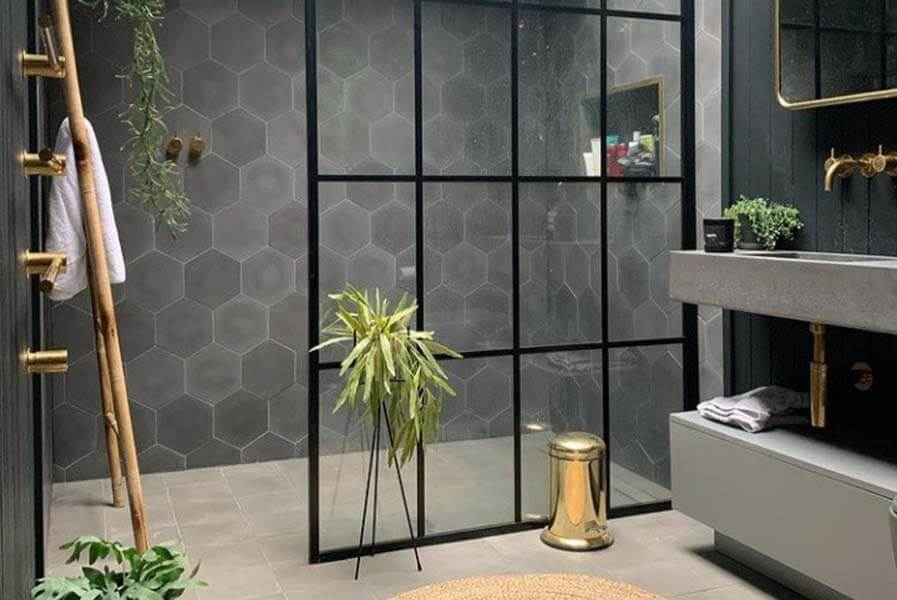 24. Experiment with your showerheads
There are multiple types of showerheads available in the market that come in different sizes, designs, and technological innovations. The right choice of showerhead could provide you with a rejuvenating and luxurious shower experience. The rain system and ceiling-mounted shower heads are gaining popularity in most modern bathrooms for the best experience. You could go with any of these options for an elegant shower area design.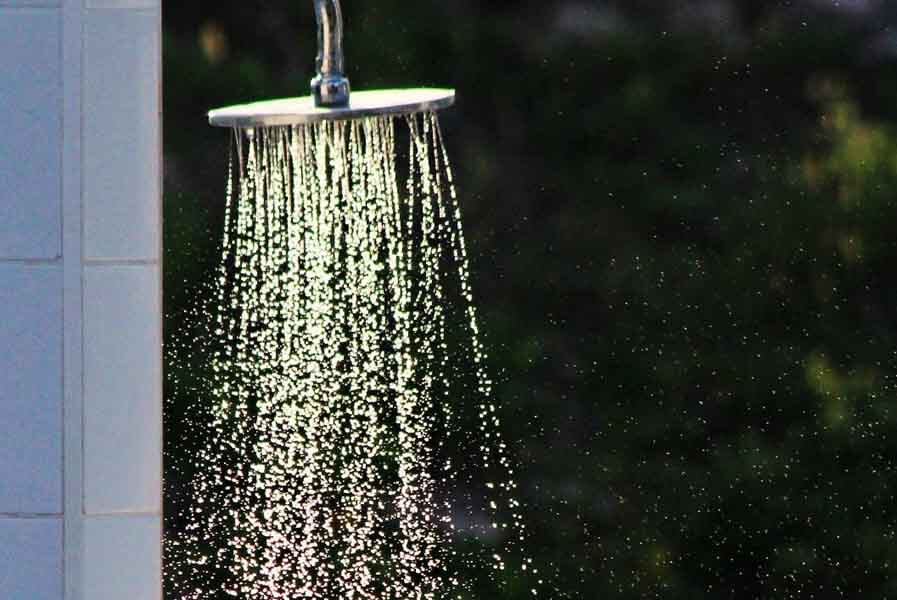 25. A clean washroom is an elegant washroom
Last but not the least, no matter what fixtures and fittings you use or how good your bathrooms' design is, cleanliness is a key factor. No matter how much you invest in luxurious and durable fittings, if it is not maintained well enough, it loses their design value. Bathrooms are spaces that require maximum safety and hygiene so a clean washroom is an elegant washroom.