18 Practical Small Bathroom Designs and Ideas in India
Bathrooms in homes are getting smaller but your interiors for bathroom space can still look great. Check out these small bathroom design ideas in India.
Got a small bathroom?
No problem we've got you. Designing, planning, and remodeling small bathroom designs spaces in India is always challenging as well as exciting because you get to be creative and get to go all out on ideas.
A small bathroom often presents a big design opportunity.
Here are a few space-saving solutions that can help up your design game in terms of both aesthetics and functionality:
Add sliding doors
Use subtle colours
Organise the decor vertically
Materials to brighten up
Incorporate some essential décor
Don't overfill
Use flush as storage
Install customised shower cabinets
Install narrow shelves and hangers
Large mirrors
Perfect lighting
Vanities for storage
Larger basin surface area
Use unique wallpapers
Try installing larger window frames
Use baskets for storage
Install a skylight
Experiment with the flooring
When you have a tiny space, opening and closing the door can take up a lot of circulation space and decrease the functionality.
A sliding door is an excellent solution to this problem!
Sliding doors don't take up any extra space and this could even give you some extra space for storage in your bathroom.
It is the best thing to invest in while designing a small bathroom.
You could also experiment with a wide range of available mechanisms. If your bathroom is attached to your bedroom, then this door can also add to the aesthetics of your bedroom outside.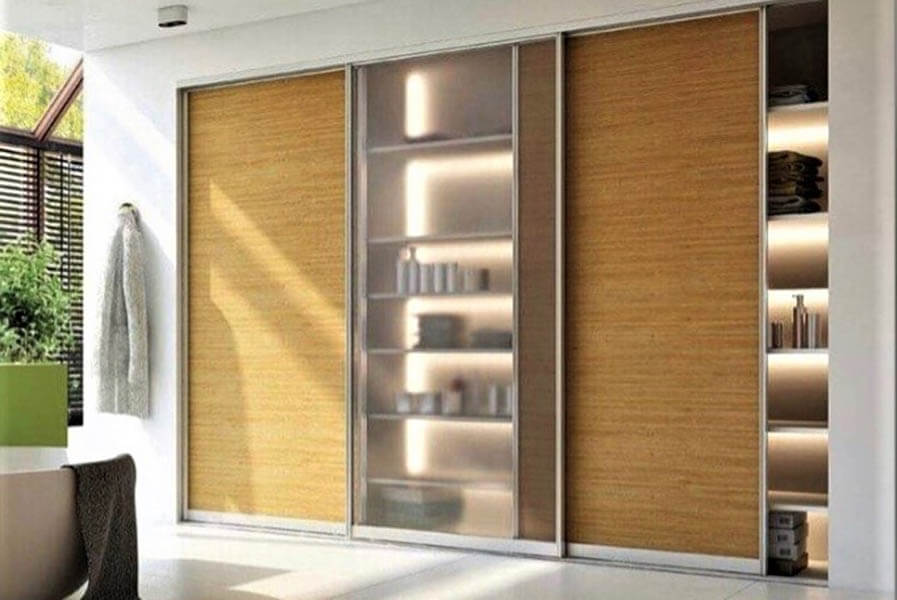 It is a well-known fact that subtle colours like white, beige, and light grey can make any small room look very spacious.
Sometimes, the combination of these colours with bright colours can also make your bathroom look larger. Even under subtle colours, you can choose different hues and undertones of white to match the style of your bathroom.
Including colours like light blue, soft tan, yellow and pastels would as well do the same job.
Try to avoid dark colours as a major part of your bathroom colour unless it is for complementing other colours as it would make you feel very congested.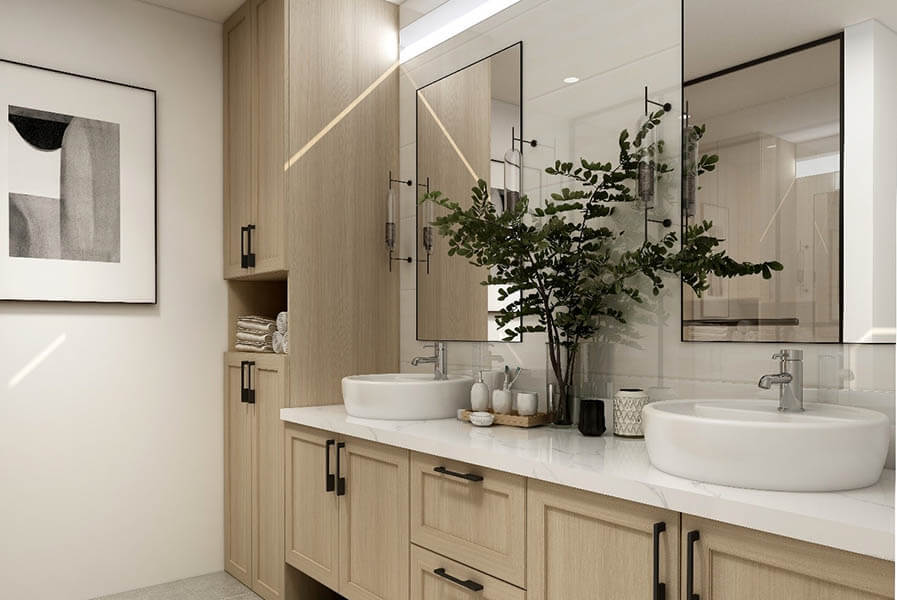 3. Organise the decor vertically
It is very challenging to organise décor and other elements in a small bathroom space, but this can be made simple if you vertically organise them.
A horizontal organisation can take up a lot of wall space and can make your room seem very small and congested.
A vertical organisation on the other hand has the advantage of making it seem like you have enough space in your bathroom because this kind of organisation goes from ceiling to floor which is comparatively more than wall to wall of a small bathroom.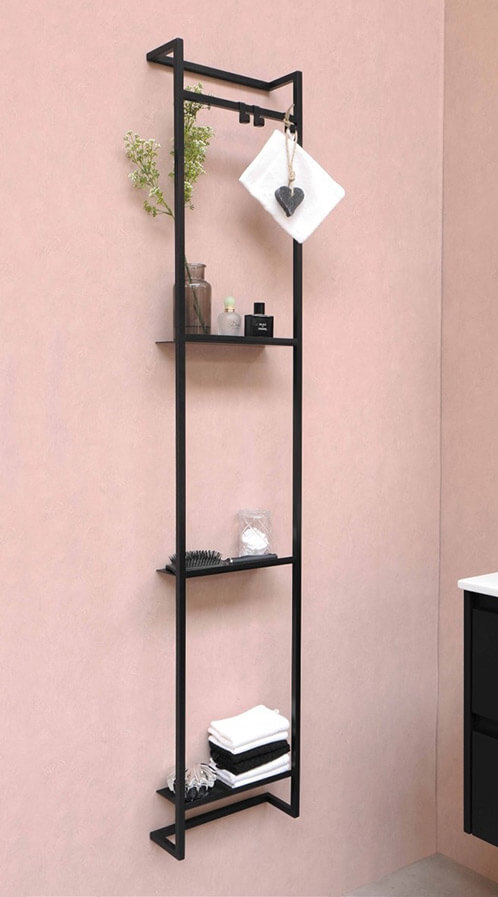 4. Materials to brighten up
Materials that are durable and that help your space look larger can be a great investment for small bathrooms.
Using glass wherever possible can bring an enormous change to the look of your bathroom. Glass usually makes the space look larger than usual and at the same time gives your bathroom a sophisticated and elegant look.
Few other durable materials that can be best used in small bathrooms are quartz countertops, porcelain tiles, vinyl tiles, MDF, and plywood cabinets.
Materials like softwood and laminates are comparatively not that durable and cannot resist water for a longer period of time.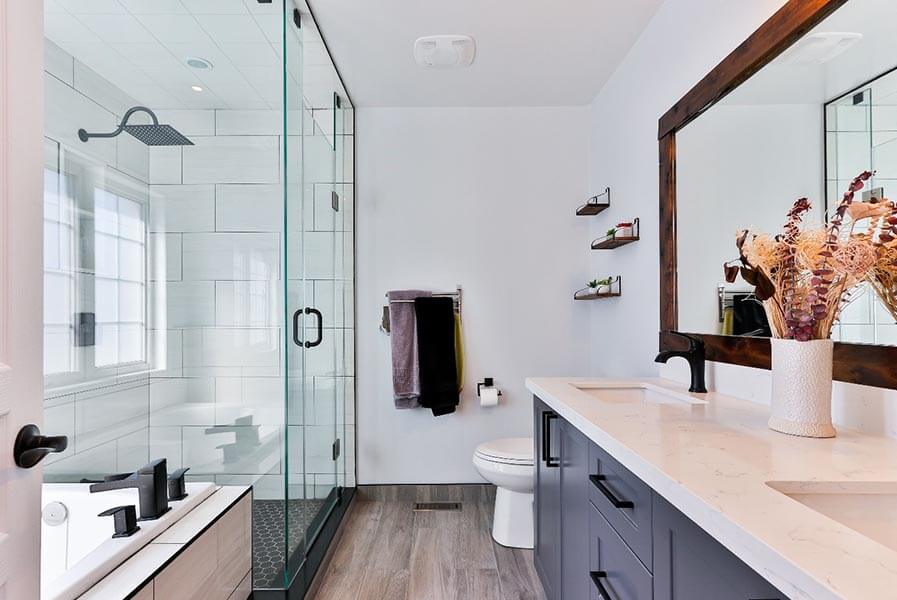 5. Incorporate some essential decor
Installing décor can be an integral part of any space in your house. It mainly reflects the personality of the individual and their personal choice of style.
You can make it look aesthetic and at the same time keep it functional as well. You can achieve this by adding some landscaping or greenery that can keep the small closed space fresh.
You could also hang some artwork that you personally like or a piece of art that you have done yourself.
Why should small bathrooms miss out on some creative accessorising? Decorative soaps, scented candles, dry flowers, and other decorative elements can be placed to make your bathroom look as appealing as any other large bathroom.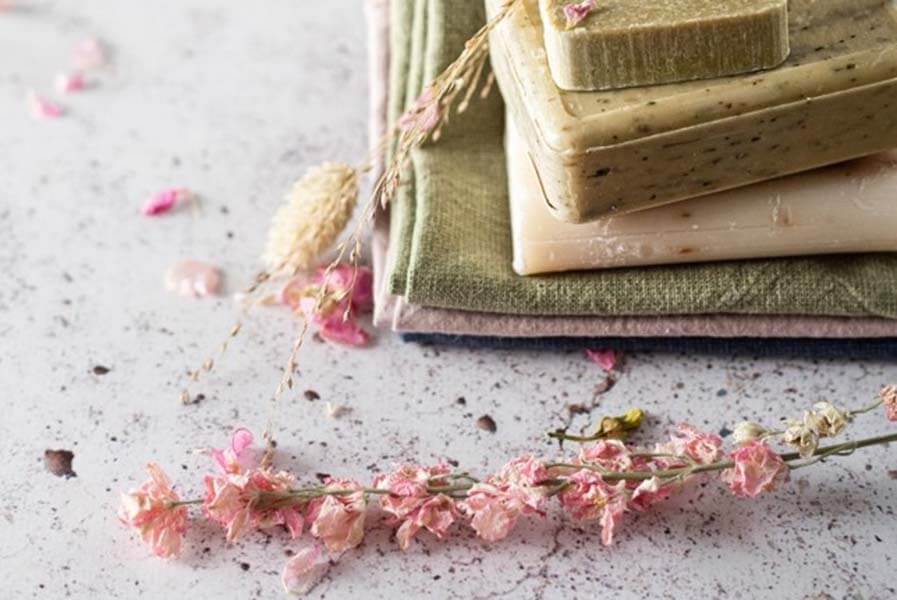 Also. read Design Ideas for Indian Bathrooms.
Bathrooms design ideas in India have become an essential part of interior planning. Here are amazing 25 bathroom design ideas for your bathroom space.
It is important to decorate and accessorise your space, but one must always take care of not overdoing it.
Trying to add in too many pieces and collections can affect the bathroom negatively especially when it is a small bathroom.
Scattering too many elements all around the space can spoil an already good-looking space which is why proper planning is required.
Over-crowding of too many décor pieces and other items can have a negative impact on the user as well because it becomes a space that is not very much inviting even for a day-to-day user.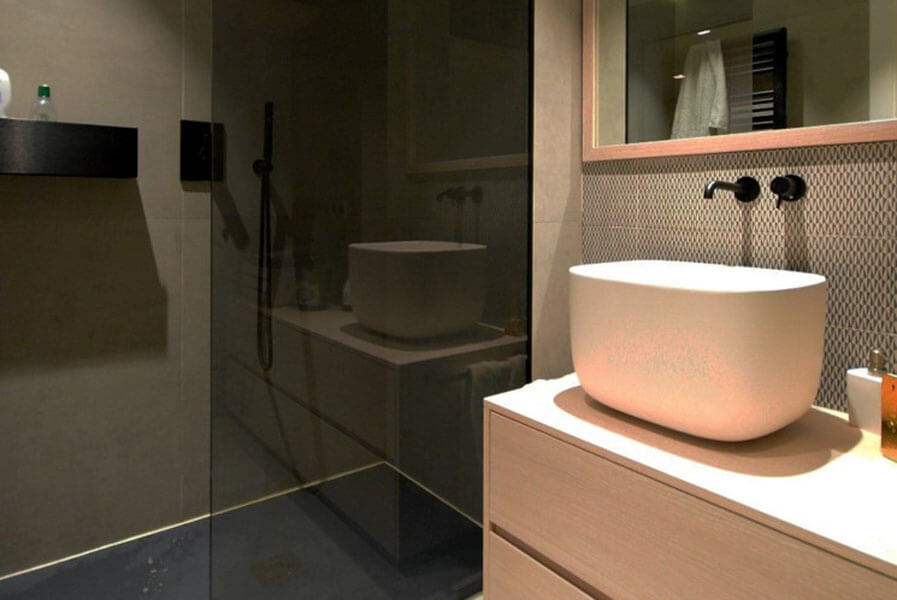 In small bathrooms, finding some adequate space for storage is always a challenge, but you can overcome this by making use of the top surface area of your flush tank.
You could use this space to store any of your day-to-day bathroom products or even install a metal rack over it to use it as a magazine stand.
Most homeowners prefer having bathroom magazines or book stands in their bathrooms, and this can be an excellent solution for small bathrooms to have a magazine stand without consuming any extra space.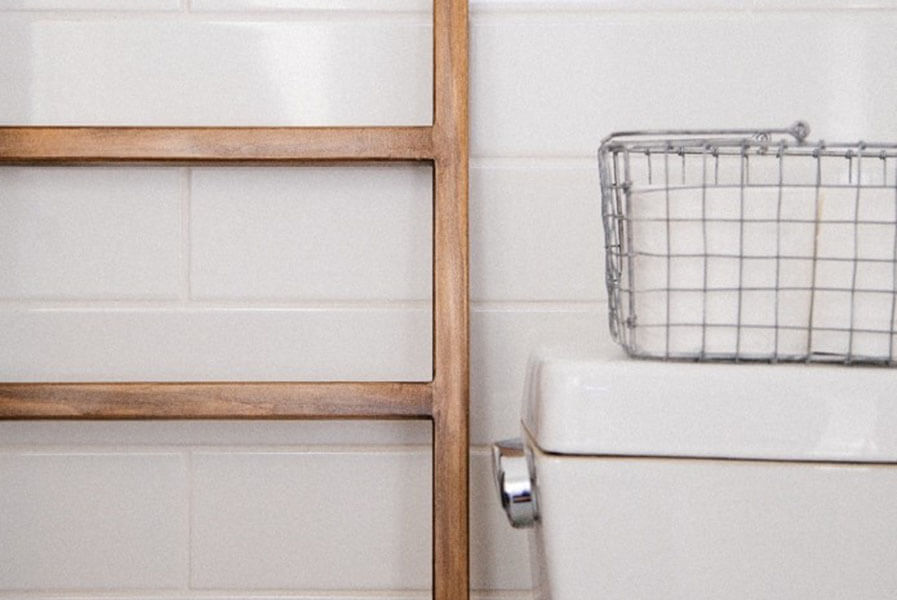 8. Install customised shower cabinets
It is a myth that small bathrooms cannot have separate shower cubicles because of the minimum space that they have.
You could get a customised shower cubicle done perfectly for the size of your bathroom and still enjoy the luxury that one can experience in a large bathroom.
Customised shower cubicles too come in various shapes, designs, and sizes from which you can choose the one that works perfectly well for the style of your bathroom.
The job of separating the wet area from the dry area is also done at the same time which is generally one of the problems faced in small bathrooms.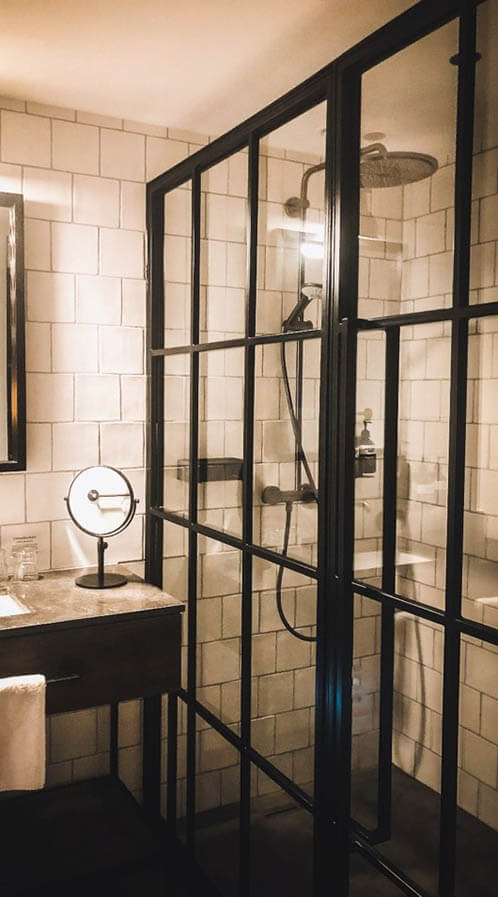 9. Install narrow shelves and hangers
Not having enough storage space is a very common problem faced by small bathroom users.
However, narrow shelves engraved on the walls of these bathrooms are brilliant space-saving ideas wherein you get extra storage space and it also doesn't take up any of the existing space.
Narrow shelves are most commonly seen next to shower areas but these can be installed almost anywhere in the bathroom.
Hangers also pretty much do the exact same job as narrow shelves in terms of extra storage space.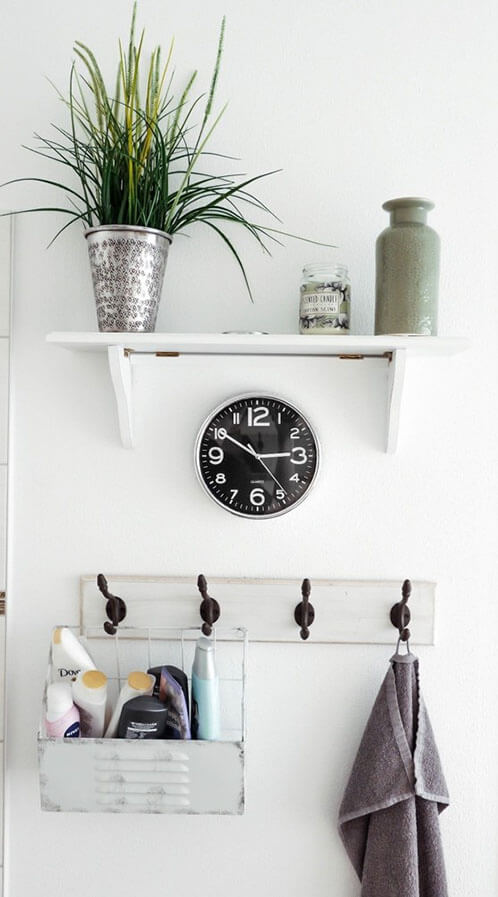 Whether it is a small bathroom, a large bathroom, or a powder room, large mirrors are always a go-to for making the design of your space stand out.
In small bathrooms, the advantage of having large mirrors that act as a focus centrepiece helps in making your space look bigger than ever and gives the user a sense of space expansion; this can evoke an inviting feeling to your guests as well.
It is also a well-known fact that mirrors are surfaces that reflect light, so large mirrors directly mean more amount of light reflection which results in the overall ambience and brightness of the space.
You may also try installing a smart mirror.
11. Ensure perfect lighting
One must always first prefer to go with the maximum amount of natural lighting in their space. The next priority should be given to different kinds of interior lighting that can further enhance the bathroom and result in better efficiency of each activity.
More lighting gives more brightness to the space and this, in turn, makes the space look larger. In small bathrooms, lighting is very important and plays a major role in making your space look bigger or smaller.
Each corner must be thought of creatively and must be installed with appropriate lighting that works well.
Lighting choices can go from ambient lighting, vanity lighting, cabinet lighting, mirror lighting, ceiling lighting to shower lighting.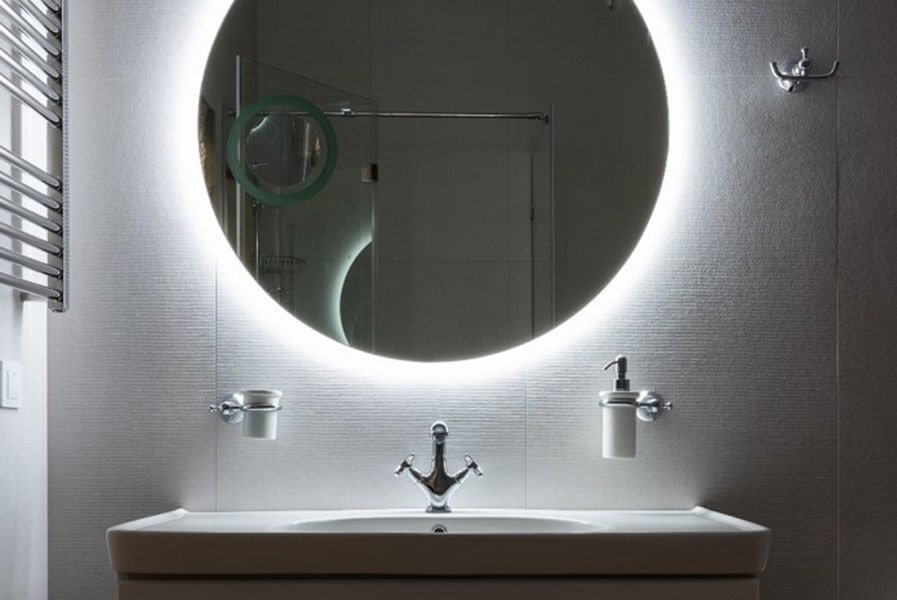 Most of the bathrooms have just a free-standing washbasin installed onto one wall while the space below it is left empty and not made use of.
These washbasins can be installed with a durable countertop and a vanity counter below it that can be used for extra storage.
To make it even better, these vanity cabinets can be made floating and left with some space below it to make your bathroom look spacious with the extra floor area.
Floating vanities are one of the elements of a modern futuristic washroom, therefore giving your small bathroom a luxurious look.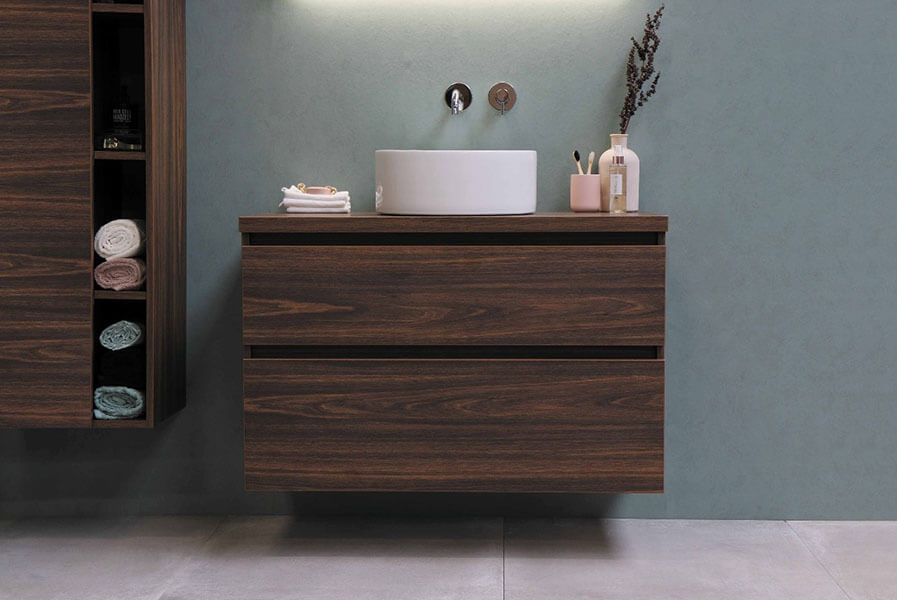 13. Large basin surface area
Washbasins with countertops are slowly gaining popularity in many homes that even have small bathrooms designs.
One of the first things that one notices while entering a bathroom is a washbasin, and it can really define the style of your bathroom.
To make it look modern and functional, countertops are being installed on washbasins to give the user a better experience.
They come in various shapes, materials, and designs and can also provide you with a lot of extra surface area for storage which is a necessity for small bathrooms.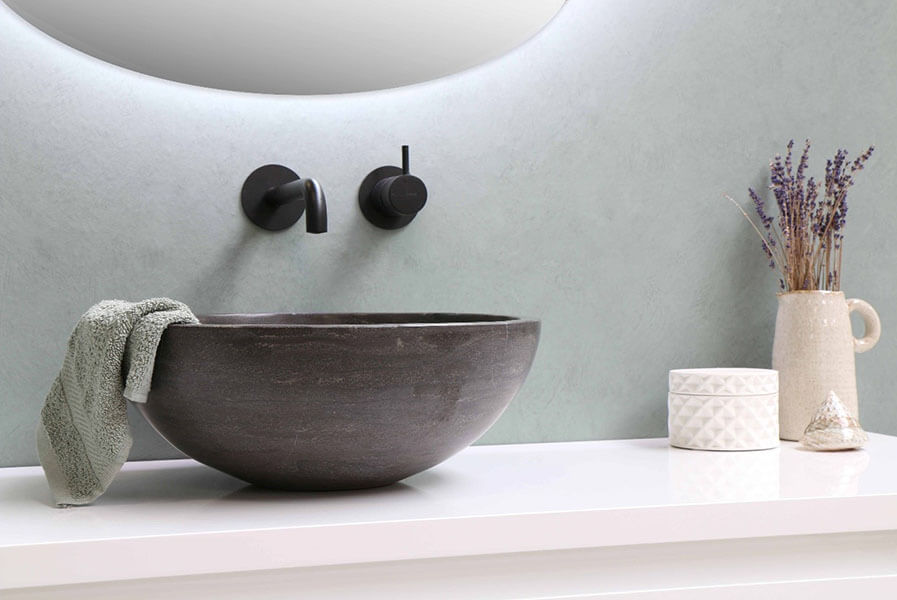 14. Use unique wallpapers
You can use wallpaper stickers on your bathrooms' wall to make it look interesting and bring out more of your personal style.
It is important to incorporate these wallpapers on walls that are usually dry because you don't want to cause a mess.
You can also apply these wallpapers on tiles or glass if you opt to.
Sticker wallpapers come in different patterns and designs so go with a design that works well with the rest of your bathroom style and try not to choose dark colours as it can make your small bathroom look even smaller.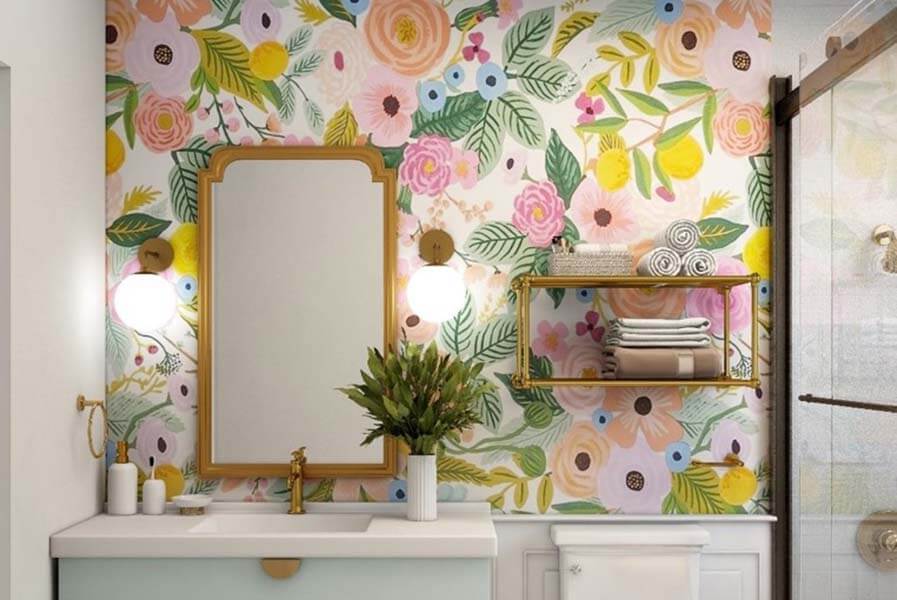 15. Try installing large window frames
When talking about keeping your bathroom walls dry most of the time, good ventilation plays an important role.
As much as you can, try installing larger window frames to provide better natural light and ventilation.
Small spaces always require the maximum amount of natural light and good circulation of fresh air, and when it comes to bathrooms specifically, it is a matter of hygiene and safety as well. It makes your bathroom inviting to the users and also makes the space look larger.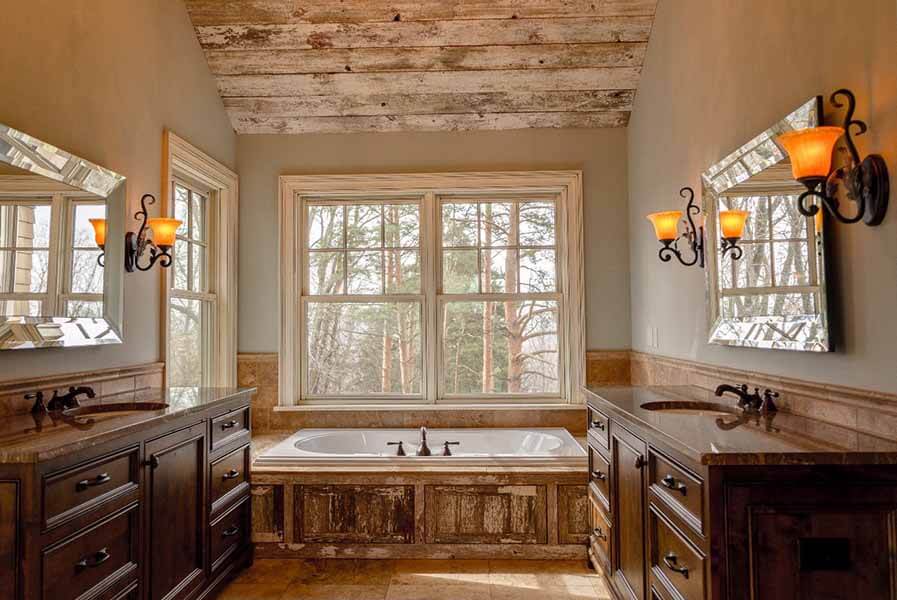 Also, read Bathroom Technologies That Will Change the Future of Bathrooms.
Bathroom technologies are changing at an unprecedented rate. We have curated eight-bathroom technological innovations that are indeed game-changers.
16. Use baskets for storage
There are a lot of items that we usually store in bathrooms, from bathroom products to toilet paper a lot of items are used.
Instead of leaving it all around on different surfaces and making the bathroom look messy, you can place beautiful baskets below or next to your washbasins to store most of your bathroom items.
Baskets used as storage can also give you the advantage of making your bathroom look clean and organised.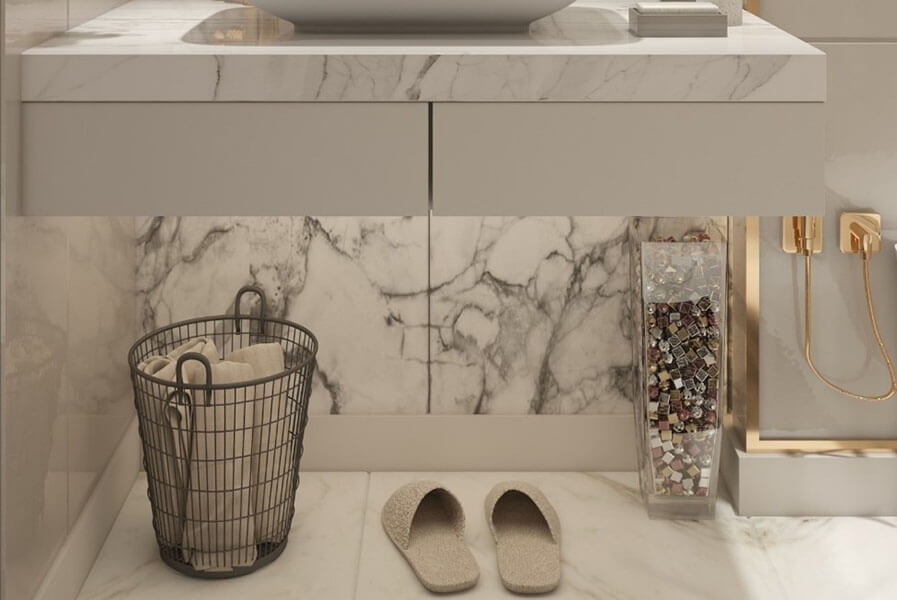 17. Experiment with the flooring
When choosing the flooring for your bathroom, it is necessary to select one that is good in both performances and looks.
Most of the homeowners just go with the appearance which later lacks in performance. You can opt from porcelain tiles, ceramic tiles, vinyl flooring, natural stone, or even laminate flooring which are all waterproof and moisture resistant.
You can even experiment by running the flooring materials to one of your walls as well to make the space look larger.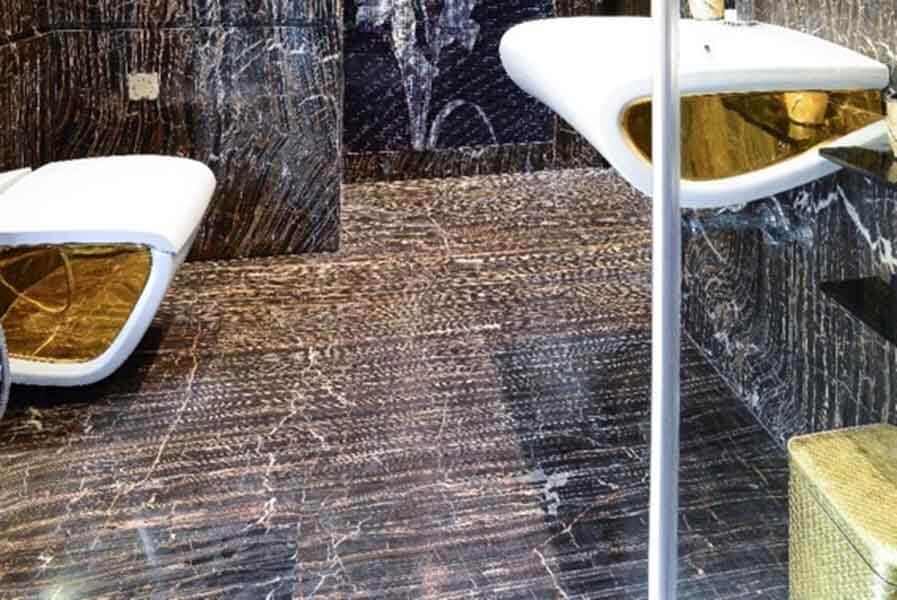 If factors permit, small bathrooms can be installed with skylights to make the space look really huge and connect it with nature.
It is difficult to install windows as well in rare cases, skylights are the best option here to maintain your privacy and still give you a good amount of natural lighting and ventilation.
You can also experiment with the design and style of skylights to install whatever suits your bathroom and its surroundings.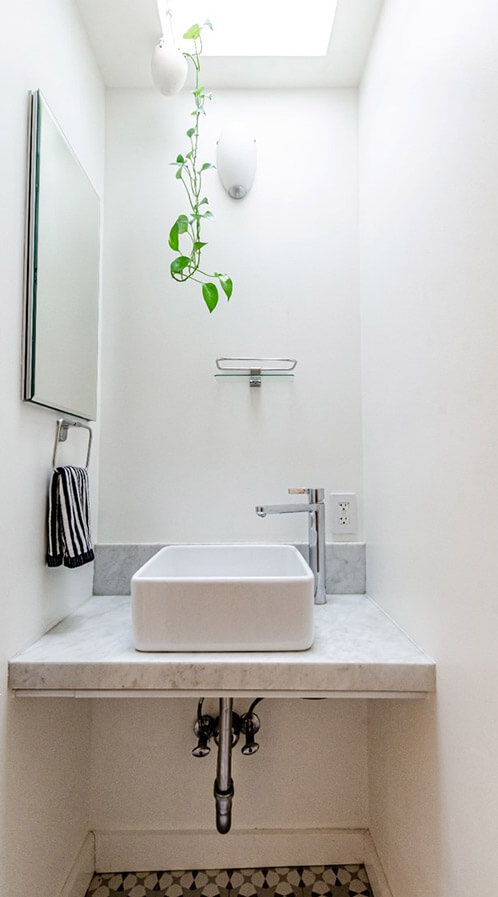 Also, read Design Ideas for Indian Bathrooms.
Bathrooms design ideas in India have become an essential part of interior planning. Here are amazing 25 bathroom design ideas for your bathroom space.