In the last couple of years we have seen ground breaking innovations in the smart mirrors segment, making it a pivotal element of futuristic smart bathrooms.
An eye-catching feature, a light source, music player or storage solution – a bathroom mirror is nowadays truly multifunctional. As well as being a practical space for personal hygiene, the modern bathroom is also an oasis of peace and relaxation, and appropriate lighting plays an important role in creating the right atmosphere. A mirror is also a style feature that should blend harmoniously with other bathroom fittings
Mirrors have been part of households for almost 200 hundred years and yet it has mostly been a luxury piece of decoration. This is going to change now with smart mirrors entering the market. Incorporated with state-of-the-art innovations and Artificial Intelligence, smart mirrors will soon be able to assist people in a host of issues. From showing something as simple as date or time to deciding the kind of outfit the viewer should wear, the potential for smart mirrors are endless.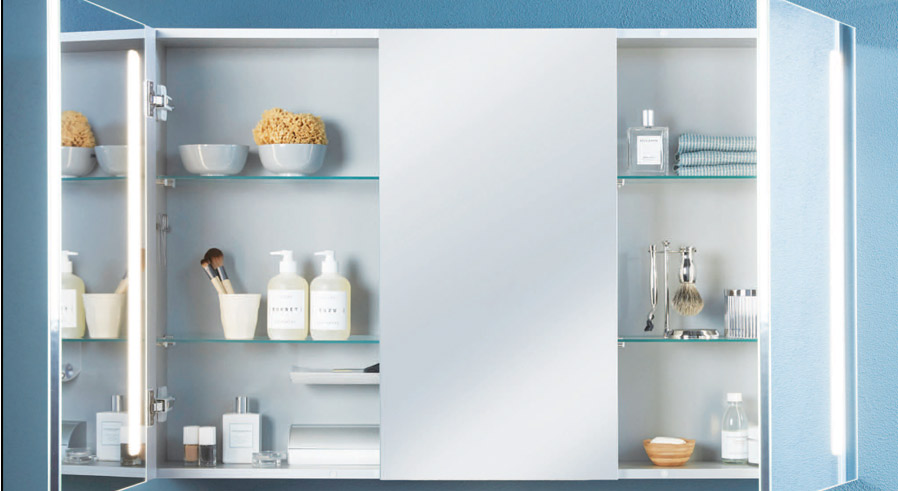 Value addition driving innovation
The primary function of mirror is well just to show a reflection. As the bathroom got more attention of the users as well as the designers as a personal space, the aesthetic value of the product being fitted mattered. This resulted into mirrors being looked at as visual highlighter with various shapes being experimented with. Further value additions like lighting, music systems and doubling up as additional storage space have driven the innovations in mirrors. The next step in that direction is the smart mirror.
He further adds that in addition to providing perfect illumination, mirrors with a powerful audio system will also provide the perfect sound experience in the bathroom. "The More to See Sound mirror is compatible with all Bluetooth-enabled devices, such as MP3 players, smartphones or tablets. The mirror from the Finion collection is also available with an optional integrated Bluetooth sound system," shares Bies.
Duravit also offers similar value added mirrors. For example, there are models under the Happy D.2 Plus range which are fitted with a sensor switch, featuring dimmable light and optional mirror heating. "The variant with icon control on the mirror surface also has mirror heating and the ambient light mode and switching function for coloured light. At a luminosity of more than 300 lux, the light colour can be continuously adjusted from 2,700 (warm light) to 6,500 kelvin (cold light). With the set of two, the respective mirror functions for each side are synchronised via innovative wireless technology that is preset at the factory," informs the company spokesperson. The models from the XSquare or the Luv range also offer similar switching function.
A working Smart Mirror is a new concept. It is like any other Mirror, but it is integrated with hardware and technology like temperature sensors, LED for illumination, LCD Display for information, internet connection, touch capabilities, and an operating system that is connected with the internet of things. Like any other technology, smart mirrors aim to make the life of end user easier so that they can focus on what is more important. Most people look at their bathroom mirror the first thing in the morning. With a smart mirror installed, users can receive all the information they need to start their day, like weather information/forecast, emails, calendar, estimated traffic to their destination, the possibilities are endless.
New innovative concepts
Smart mirrors are ready to hit the market and some manufacturers have already showcased different models. Even when the concept is still in its infancy some of these models are impressive to say the least. Digital home tech company Capstone Connected Home announced the launch of its Google-enabled Smart Mirror at Consumer Electronics Show (CES) 2019 in Las Vegas. The mirror comes with both voice and touch screen capabilities. It allows the user to access Google Assistant, check weather, traffic and also streams YouTube.
According to the company, users will be able to run downloadable applications on the mirror, allowing them to access their social media feeds among many other functions. The company plans to produce the mirror in several sizes and in a design that will allow it to seamlessly blend with a broad range of surroundings. The most compact model will be 19X22 inches in size, though the Virginia-based company has yet to detail the dimensions of the rest of the line-up.
"When not in use, the mirror does little to give away its AI-infused nature, but the built-in Google Assistant is quick to respond to any queries or commands at all times. An integrated display allows it to function like a larger Google Home Hub or Lenovo Smart Display. It can be hung on most surfaces, put on a stand, or even just placed against a wall," informed the company. Kohler also unveiled a somewhat similar product at CES. The company announced its new Verdera Voice smart mirror with Google Assistant built-in. The smart mirror is available for purchase now with Amazon Alexa built-in, but a Google Assistant model will be available soon. Just like any other Assistant-enabled speaker, Kohler's new mirror can accept voice commands, control appliances and also play music from different streaming services.
Salil Sadanandan, President, Kitchen and Bath Kohler Brand K&B South Asia, Middle East & SSA informs that the mirror has "hermetically sealed speakers" which enable stereo audio. Alongside the standard functions, though, users can also take advantage of this mirror's motion-activated lights, as well as controlling them with Assistant to adjust the brightness. Both the Verdera Voice with Amazon Alexa and Verdera Voice powered by the Google Assistant are first-to-market models by Kohler, providing seamless integration of voice control into the bathroom space.
He further adds, "The Verdera Voice is a thoughtfully designed and functional centerpiece of the smart bathroom featuring a high-quality grooming mirror, efficient adjustable LED lights for precision routines like makeup application and skin care, a motion-activated wayfinding nightlight, and hermetically sealed speakers that maximise stereo sound quality – all built-in to help reduce clutter and optimise user experiences."
Artificial intelligence and augmented reality in smart mirror
LG on the other hand is working towards designing world's first smart mirror that features artificial intelligence tech to recommend clothes for users according to their body type and fashion sense. Although it's still in the concept stage at the moment, the smart mirror was demonstrated at CES 2019. The mirror scans a person's body type to work out their height, leg length, waist size and more. It'll then recommend clothes that will suit these measurements and overall style. The smart mirror actually generates an avatar of the user on the screen that can dress up in clothes that the user chooses. It also prompts on the type of clothing the users want to 'virtually' try on, such as informal or formal, shirts or sweaters, and then it'll generate an outfit and also recommend the right sizes. Users can rotate the avatar, look closer to see if they like the material and then order it directly from the mirror.
The clothings are all real clothes that can be bought and delivered. At the moment there are only clothes from US retailer LF, but other brands and retailers are expected to join the brand soon. The company aims to have hundreds of different outfits for the user to choose from without having to visit lots of different stores and try them on. In the long run the AI may well be able to recognise the user's likes, dislikes and develop a stronger sense of the person's style hence recommending better clothing options. Artemis smart mirror from Care OS is also quite similar to this concept. The smart mirror allows users to preview their make-up or a new hairstyle using augmented reality. However, unlike the LG's mirror this one doesn't create an avatar, instead it lines up the look the user is thinking of going for on top of the user's own face to give a clear picture.
It is quite similar to the slew of augmented reality apps where filters are used to preview new hairstyles and looks. But having this capability built into a smart mirror at home may encourage users to be more experimental with their style and give a more true-to-life realisation of what they are looking at. The mirror will also be able to play tutorials on the screen so users can watch videos for makeup and hair styling tips.
Smart mirrors are not only foraying in this few domains of lifestyles, but innovative options are also available when it comes to health and fitness as well. A smart mirror which is simply called 'MIRROR' has already created quite a buzz by claiming to be one of the best inventions of 2018 and revolutionising the way people work out at home.
The MIRROR is an unassuming piece of décor that transforms into a personal gym class when it's turned on. It can be connected with the home Wi-Fi system through an app. Once connected, users can choose from over 70 live fitness classes from boxing to dance cardio, and even yoga. It puts the user in a virtual face-to-face with the instructor making it easy to follow along for a great workout experience.
Is it the future of bathroom?
Even when the concept of smart mirror has been there for a while, it is only recently that the industry is seeing such ground-breaking innovations in this domain. With more manufacturers joining the bandwagon, more such innovative gadgets are sure to hit the market. But the big question is whether the Indian market is ready to take the smart mirror plunge.
The smart devices market in India is backed on two important factors – developed tech consumption habits of Indian consumers and availability of various providers of affordable data connectivity options. "Among urban consumers, smart homes are increasingly becoming popular by the day as fewer and fewer people want to devote their time to mundane chores when they'd much rather invest it in building their careers or pursuing their hobbies. Smart devices market in India has seen more than 100% year on year growth and time is quite ripe for Kohler India to expand its portfolio with smart products to ride the bandwagon of Smart Home Market," opines Sadanandan.
Bies agrees, "The market for smart home gadgets is booming worldwide and India makes no exception. Convenience is a big part of the appeal of smart home tech. In terms of bathroom mirrors, that could mean having the perfect lighting or the right music suited to our needs."
He further adds, "To an even greater extent than in living areas, lighting requirements in the bathroom vary depending on the time of day and our mood. In the morning, we need cool, bright light to wake us up and for our morning routine. When darkness falls, warm tones transform the bathroom into an oasis of well-being where the stress of the day can simply melt away." Both Kohler and Villeroy & Boch are quite upbeat about the potential of these smart mirrors in the Indian market and are taking to steps to strengthen this segment. For instance, earlier this year Kohler India has started a new category called Kohler Mirrors. The portfolio consists of the mirrors of various sizes (from 600 mm to >1000mm), shapes (rectangular, circular and Column) and LED lighting (inset & perimeter). Sadanandan informs that there are 12 SKUs which provide additional features like integrated illumination, integrated defogger to provide unhindered view even in high humidity, high colour rendering LED, IR sensors touchless controls and corrosion free oxidation layer.
"After featuring these lighted mirrors with various shapes and sizes the next logical step for Kohler India is to bring Mirror Cabinets and Smart Mirrors. Verdera smart mirror is the most sought after mirror compatible with Kohler Konnect and hence can offer a full smart bathroom offering to the consumers. Team at kohler India is working towards to make smart mirror a reality for consumers to have voice assisted assistant at their bathroom space," adds Sadanandan.
In addition to strengthening the category, Villeroy & Boch is also offers tools to help the potential buyers find, plan and create their perfect bathroom. For example, the Style Finder tool in the company's website helps the potential buyer define their personal style preference and identify the most appropriate collections to express it. "As digitalisation is increasingly finding its way into our homes, things like smart home features or digital tools that improve the everyday life of user are of big importance for the company. This is evident not only in the products from Villeroy & Boch, but also in the smart solutions that facilitate the planning and implementation of the dream bathroom," shares Bies.
The fact that a mirror is an essential element in every home and smart mirror does not look very different from regular ordinary mirrors, more and more households are expected to embrace this technology in the coming years.