Hindware Revamps Brand Identity and Ropes in Tamanna Bhatia as Brand Endorser
Hindware, a leader in complete bathroom solutions has recently revamped its brand identity to reinforce its connection with customers and supplement its position in the sanitaryware industry. As part of the exercise, the company introduced a revamped logo, launched a new range of coloured faucets, 'Hues' and roped in leading female actor, Tamanna Bhatia as the Brand Endorser to build a stronger connection with consumers in southern markets and across India.
At an event in New Delhi, Hindware unveiled its new brand logo in Black & White colour echoing supremacy and suavity. Additionally, the company revealed the new logo for the Hindware Italian Collection, in White, Gold and Black colour, representing luxury, triumph and success, while 'Italian' is written in artistic calligraphy font to signify elegance. The essence of the new logo for the Hindware Italian Collection further relates to confidence, boldness and power, and hints of the legacy brand logo – Hindware, can be observed denoting a balanced premium tone with a promise of quality and performance.
According to the company, this approach helps the Italian Collection to establish credentials and enter the consideration set of the consumer who is seeking products that are stylish, contemporary, innovative, and importantly dependable. With the overall rebranding exercise, the company intends to position Hindware Italian Collection as a premium brand with a strong legacy and trust of its proverbial brand, Hindware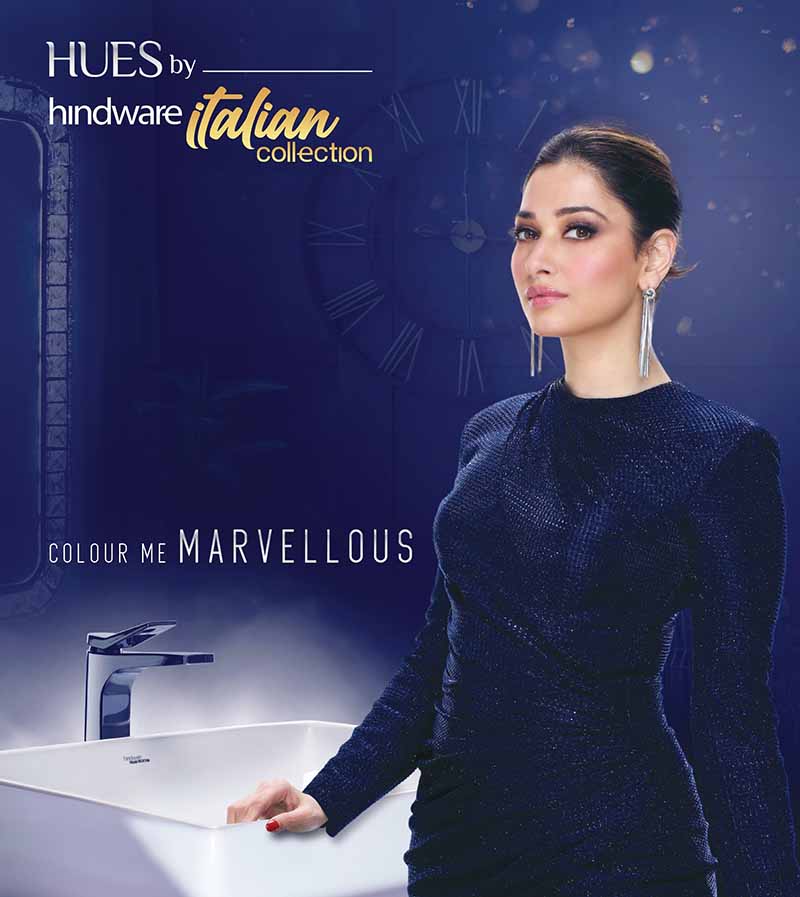 During the event, the company also launched a range of coloured faucets 'Hues by Hindware Italian Collection'. The collection pursues to connect with audiences seeking to design bathrooms with colour and pristine finish in metro and mini-metro cities. The new bathroom range entails a complete portfolio of faucets called Edge, Element and Avoir available in Gold, Rose-Gold and Chrome Black. The product range has a sharp and edgy design to match the basins and water closets of every bath space. Each colour palette connoting beauty, and elegance in the most impactful way, is capable of instantly elevating the look of any bath space. The collection is designed to be aesthetically appealing and built with the most durable finish available today.
A leading female actor, Tamanna Bhatia has also been signed in as the brand endorser for the launch of 'Hues' faucets by Hindware Italian Collection. As part of the association, Tamanna will be supporting Hindware's brand value and further strengthening its position in the premium offerings by the Hindware Italian Collection.
Commenting on the announcement, Sudhanshu Pokhriyal, Chief Executive Officer, Bath & Tiles, Brilloca, said, "Our marketing strategies are at the core of evolving industry dynamics and therefore, keeping in mind the market sentiments and audience appeal, we have taken a conscious call to introduce a new identity for Hindware and Hindware Italian Collection. With this, we reflect our modern outlook and our rich legacy; the goal of this rebranding is to enhance the connection with customers in the present times. Aligned to the new brand identity, we are pleased to launch a vibrant and stylish range of luxurious facets, 'Hues' by the Hindware Italian Collection. The coloured faucets have a stunning, long-lasting finish that will light up your bathroom and give it an aesthetic look."