Hippo Stores Launches Its E-Commerce Platform For Homeowners
Hippo Stores, a one-stop solution for all building products, has recently launched its e-commerce platform (www.hippostores.com) for B2C customers. The platform, offering 30,000+ products from 160+ brands, all at wholesale prices will help homeowners to order seamlessly from anywhere. Available for retailers and contractors since March 2021, the digital platform has already given retailers and contractors the ability to order digitally without the requirement to be tech-savvy.
Commenting on the development, Amit Garg, CEO, Hippo Stores said, "Hippostores.com is an industry-first initiative in aggregating the fragmented building materials sector. Our aim is to facilitate a hassle-free experience for our customers by selling them everything that they need for building a home from the comfort of their home at Wholesale Prices. Post-starting the pilot store in Mayapuri to address the need of the Delhi-NCR market, we saw significant demand from homeowners who appreciated the transparency and convenience of a one-stop shop. We launched our e-commerce platform to reach out to an even larger audience to help them have a seamless experience just like it is in the store."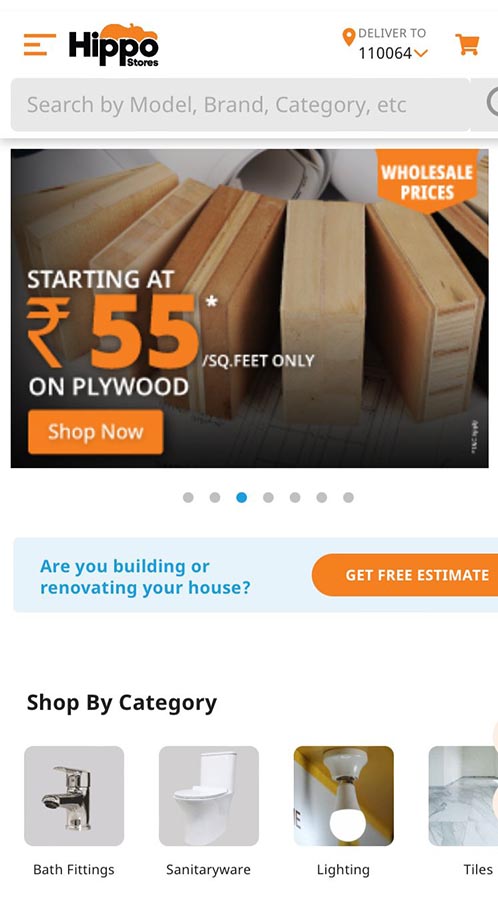 Home construction is a complex process with different materials required at each stage. The entire burden of aggregation lies on the homeowner and the contractor. "They have to make more than 70 market visits on average, for selecting the right product and brand, checking availability, negotiating costs and finally getting the required material through multiple channels of sale. The necessity of technical knowledge and the sheer size of investment in building a home makes this process more complex," shared Garg further adding that Hippo Stores solves this problem by providing a one-stop online solution for customers – to select and purchase all their requirements from a single source at wholesale prices.
Hippo stores will enhance the buying process of homeowners too, by enabling them to browse through a number of items at any time. "What makes the online platform unique is its proposition to let the customers compare prices of a wide selection of building products from assorted brands, across various categories. Moreover, to help the customers buy the right product for their requirement, Hippo Stores offline store has more than 40 product specialists to assist customers in decision making by providing technical product know-how," asserted Garg.
He further shared, "Apart from an e-commerce app for ordering and tracking, Hippo Stores' digital ecosystem through its soon to be launched Hippo Social, will add site and contractor listing to connect contractors with homeowners, and will have added features to enable real-time project tracking. With its unique proposition, more than 20,000 contractors and small retailers in Delhi NCR have already registered themselves as members with Hippo Stores."