Sensor Products from Schell
Contactless electronic fittings are the new standard for hygiene – and are also easy to install
All over the world, users are looking for improvements to hygiene and saving water as well as reliability and durability. In terms of products, Schell has provided over 2,000 expert answers to these demands. From taps and fittings for washbasins, kitchens, showers, WCs and urinals, regulating angle valves or fittings for use with gas and heating systems or household appliances – for these and all other Schell products, one can always count on the legendary Schell quality.
Advantages of Sensor Products
Contact-free electronic taps offer protection against the transmission of bacteria and viruses. Since the tap is operated toothlessly while hands are being washed, this prevents infections resulting from contact with the fitting. This is a significant benefit for high-traffic sanitary facilities. Touchless fittings from Schell break the chain of infection. Protect the building users both now and in the future!
An electronic fitting from Schell is also a sustainable solution. One key advantage of electronic fittings is that water only flows when it's actually being used: compared with conventional single-lever mixers, this means that contactless electronic taps can cut water consumption by up to 62 per cent. Electronic fittings from Schell also consume hardly any energy.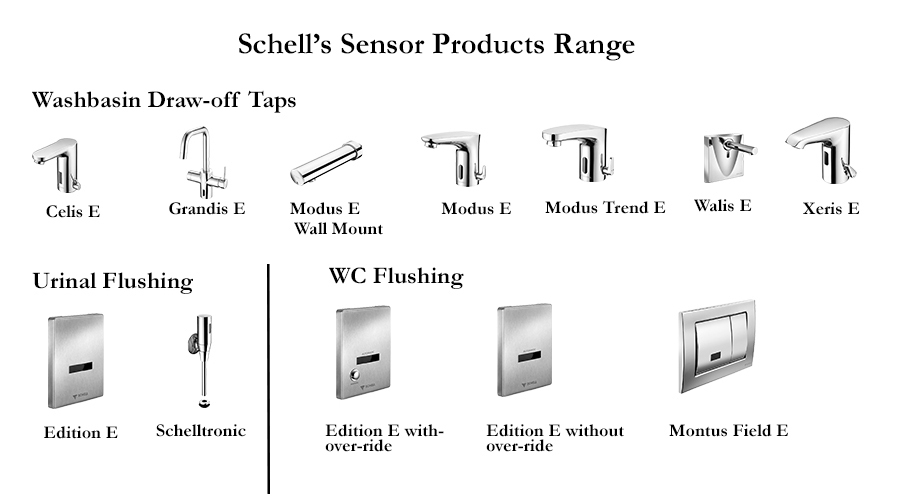 The legendary Schell quality also plays a key role here. A fitting that soon needs replacing after installation is bad for the environment. In public spaces, this means that vandalism is a critical issue. If one picks an electronic fitting from Schell, they get the whole package: support for user and drinking water hygiene, service, vandalism protection and sustainability – all in one.