An Upgraded Lifestyle Model For Public Spaces
Personal Sensory Spaces by Sieger Design now extends the luxurious design and ambience to semi or fully public washrooms as well.
In the evolution of semi-public WCs and washrooms, the architectural study of personal sensory spaces by Sieger design sets new benchmarks for intimacy and comfort. The more hectic and dynamic modern life becomes, the more consumers look for places to which they can retreat and enjoy some calm. The designer's focus, therefore, turns more focused in spaces outside the home environment – for instance, at work or even while travelling.
The project Personal Sensory Spaces, PSS for short, presents a revolutionary new concept for semi-public WCs. In this architectural study, fully equipped modular units create self-contained sanctuaries – while requiring no more space than conventional cubicle solutions.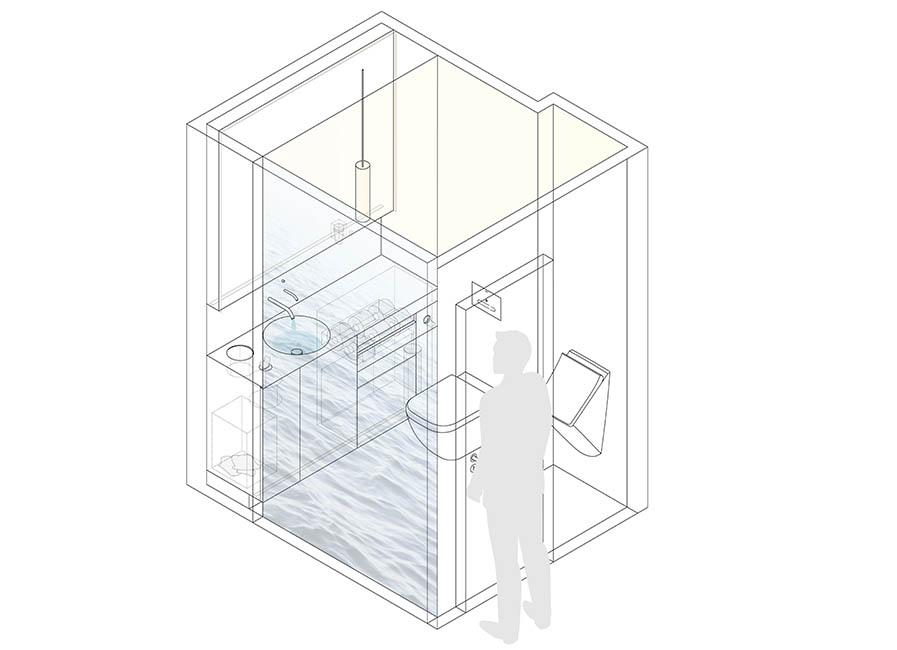 The evolution of partially public or fully public WCs is part of the world's cultural history. From communal latrines in ancient Rome to the first screened-off water closets, down the centuries they have changed in line with the concepts of hygiene and intimacy. This architectural study marks another key stage in this evolution and is intended to set a new standard for semi-public WC facilities.
Through the intelligent arrangement of space and innovative design, it places the focus squarely on people and their need for privacy. Self-contained, soundproofed units offer intimacy, calm and relaxation. Alongside a toilet, each such module also contains a washbasin and other optional multisensory features designed to maximise comfort.
Lighting, imagery, film, music and fragrances evoke new emotional ambiences each time. The digitally connected modules appeal to the senses with personalised scenarios, creating an experience of the sanctuary. Depending on the user's personal needs, the ambience will be stimulating and invigorating or soothing and relaxing.
This means that the personal sensory spaces modules, which are individually configured for each project, go far beyond the traditional WC, creating a space for personal rituals, where people can wash, touch up their make-up or take medicine. The study presents a concept that doesn't just offer benefits to users, but also to companies, architects and planners. For the same number of WCs, the study's modules require no more space than a conventional toilet facility with individual cubicles and a shared washbasin area.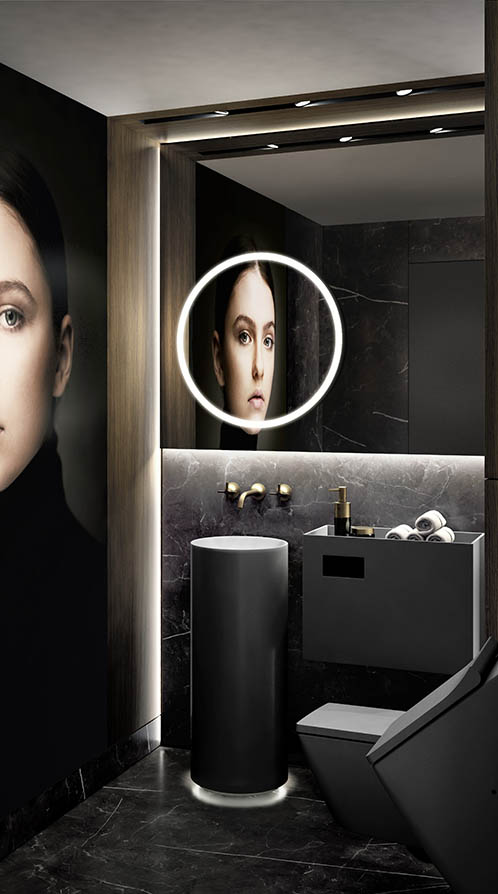 The integrated solution by Sieger design also has all the little details covered. Almost all semi-public toilet facilities combine products from a range of different manufacturers, from soap dispensers to hand dryers to sanitary bag dispensers. Having to make separate decisions on all these individual items makes planning complex. This solution, by contrast, can offer fully predefined units that can be adapted according to different locations, styles and desired options.
The architectural study delivers on the promise of privacy in all semi-public spaces. The three style interpretations – Office, Factory and Hospitality – visualise examples of concrete applications for different settings. Besides offices and hotels, other possible areas of application include transport hubs such as airports, train stations and petrol stations.
In the 3 style interpretations in the Office variant, the individual modules are specially tailored to a workplace setting. The minimalist design is democratic and inviting for office staff, but without sacrificing its own distinctive style and charm. The large mirror and the lighting create a pleasant environment that is ideal for a variety of different uses: for instance, doing make-up. Customised scenarios with lighting, music and fragrances can be individually controlled and navigated.
The Factory style interpretation illustrates how the PSS architectural study could be implemented in a production setting. This variant features more robust materials, tiled walls and a larger washbasin, providing space for users to have a more thorough wash. It could also be adapted for sports facilities or swimming pools.
Hospitality visualises a premium design style ideal for hotels, restaurants and bars. A floor-standing washbasin is accompanied by a cube unit on which fresh towels are laid out and that features an integrated bin for used towels. The selected materials and finishes as well as the finely tuned lighting concept create an elegant and emotional ambience.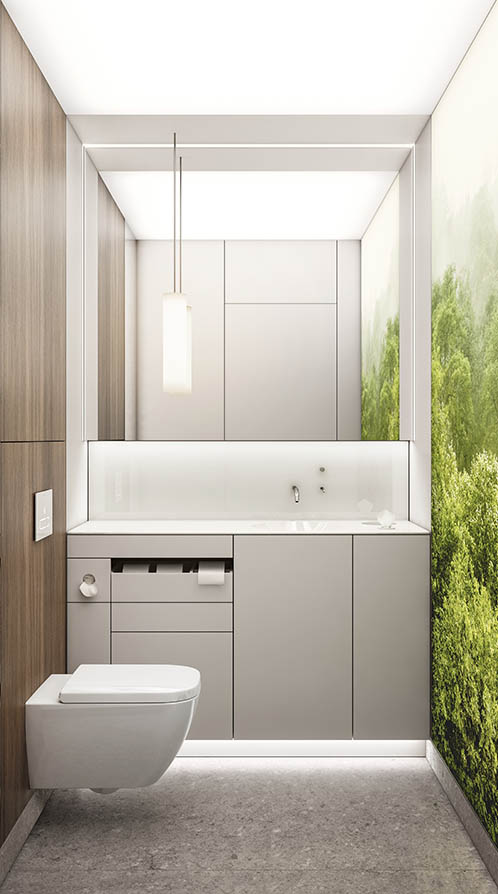 Unique personalised elements
Description of the PSS sketch helps understand the fine details for example as in pre-programmed scenarios. Personalised scenarios create emotional ambiences and an experience of sanctuary using digitally connected elements such as lighting, film, fragrances and music. The scenarios can be managed using wall-mounted controls or an app.
Depending on the user's personal needs, either a stimulating, invigorating ambience can be created or a soothing, relaxing one. Illuminated ceiling inspired by nature: the fully illuminated ceiling simulates the sky, creating a daylight-like experience even in windowless rooms. With RGBW LEDs – coloured light with a separately controllable white LED – it's possible to recreate the fine nuances of morning or evening light.
The large display acts like a virtual window, bringing the outdoors indoors. Images are given exceptional depth by the fully backlit screen. The display can show images of nature, photographs or films. In preprogrammed scenarios, the screen interacts with elements like the illuminated ceiling.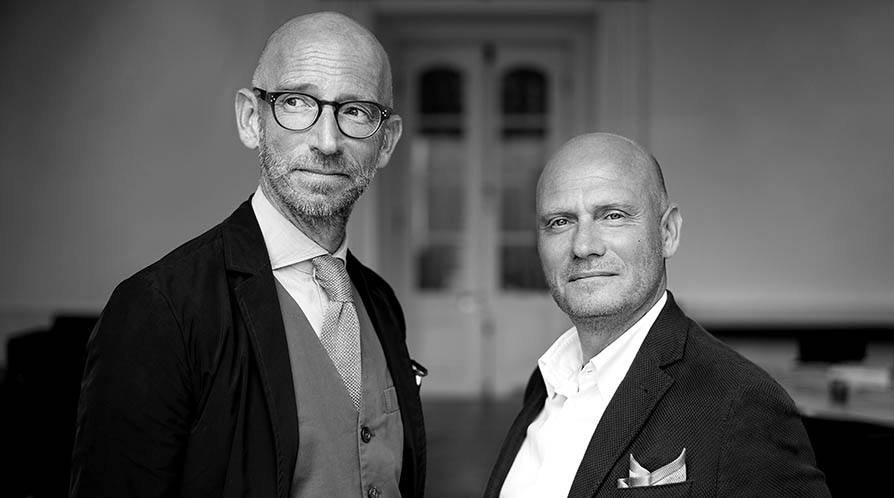 The washstand makes optimum use of limited space. The basin, washstand cover and backsplash are made as a single component from glazed steel. A paper towel dispenser and a bin for used towels are integrated on the left-hand side of the compact unit. PSS is a space for personal rituals, where people can freshen themselves up or take medicine undisturbed using the cups provided. An integrated filter system ensures the water is drinkable.
The concealed technology (from Dornbracht) offers a hygienic, easy-to-use solution. In many semi-public settings, touch-free taps are already a legal requirement. The automatic soap dispenser is also sensor activated. The toilet flush is also sensor-controlled and can be activated touch-free with a hand gesture. The urinal has an automatic flush function, which is activated by infrared proximity sensors (from Duravit).
Concealed bathroom supplies
Unsightly items, like replacement toilet rolls, sanitary bag dispensers and toilet brushes, are compactly arranged in the washstand unit, out of view of users. To keep the air in windowless WCs fresh and healthy, a ventilation system is a must. Fresh air is fed in from floor level, while an extractor on the ceiling removes stale air.