"Premium customers demand an elevated experience and we believe in providing the best…"
To help transform bath spaces into intimate retreats, Grohe India recently launched the Grohe Spa Rainshower Aqua at a gala event in Delhi. Driven by the passion for water and for creating luxury experiences for all the senses, the Grohe Spa range features cutting-edge showering innovations, which promise to transform the bathroom into a personal home spa.
In an exclusive interview with Washrooms and Beyond, Bobby Joseph, Leader, LWT – India & Subcontinent (Grohe & American Standard) throws light on the various aspects of the Grohe Spa range including features, modes, sourcing and retailing. 
Worldwide, turning a bathroom into a private spa has been a major trend in the last decade. How has it transcended the Indian market?
Since the onset of the pandemic, there has been a paradigm shift in the way we live and experience everyday activities. With rapidly evolving consumer needs, greater focus is being placed on wellness, health, comfort and hygiene. As people spend more time indoors, there is a growing need to bring home the luxuries they would otherwise experience when they travel the world. An exclusive, luxurious shower is one such experience.
With the launch of Grohe Spa Rainshower Aqua, we are aiming to introduce the concept of personalised luxury in the bath space. The consumer can now tune into his/her very own blissful experience by mixing and matching the spray modules to create a highly personalised showering experience as per their mood and desire.
How poised are you to capitalise on this? What are the products you are offering under the Grohe Spa range?
The Rainshower Aqua is the first product under the Grohe Spa range. It provides architects, designers, developers and even ends consumers the option to add their signature style to the bathroom spaces they create. They can now create luxurious showering experiences with a level of customisation never seen before. It offers the ultimate freedom to personalise the spa-like showering experience.
In the post-pandemic era, people have developed a heightened sense of well-being. The modern consumer also seeks exclusivity in their experiences. Grohe Spa aims to cater to these requirements through its innovative and differentiated products and solutions.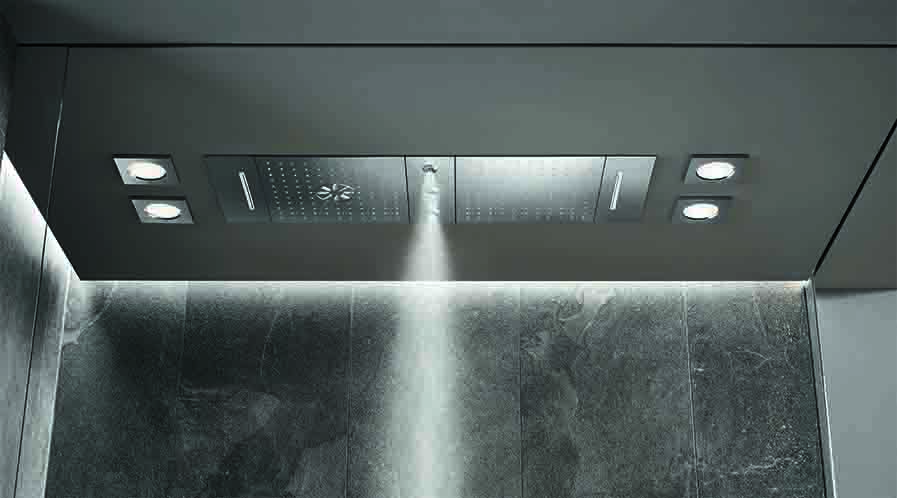 How are aqua therapy and chromotherapy redefining the showering experience?
The Rainshower Aqua gives users absolute freedom to innovate and individualise. It has multiple shower modules that one can choose from based on requirements and preferred experience. These different elements can be combined in endless configurations to create a truly bespoke shower.
Aqua Cascade – Recreates the sensation of a personal waterfall with a specially designed water channel.
Aqua Duo – Features the option to switch between rain and our patented SmartActive spray, which offers a thrilling massage delivered by powerful, pulsating nozzles.
Aqua Mono – Grohe's new and improved nozzles produce larger, softer droplets.
Aqua Mist – Drizzle sprays cool and rehydrates the skin with a fresh, light mist.
Aqua Pure – A smooth, crystal-clear pillar of water gently washes away the stress of the day.
Aqua Body Sprays – With two spray modes, the spray head pops out offering 30 degrees of adjustability in any direction. This allows users to target the right areas of the body.
Chromotherapy – Therapeutic lights to enhance the relaxation and restoration experience.
In the luxury segment, it's all about marrying the design with the technology to offer best-in-class products to consumers. How are you accomplishing that goal through the Grohe Spa range?
German design and innovation have always been the driving force behind the success of Grohe showers and fittings. With a Grohe shower, one can enjoy a stylish design and various spray options for a soothing, relaxing and refreshing experience.
Over the years, Grohe has endeavoured to perfect the craft of creating a spa-like shower experience. In this quest, Grohe Spa has curated the elements of bliss that can be customised as per the user's preference to create the perfect shower. We aim to give users a world-class spa experience at home by focusing on customer preferences of heightened personal well-being and personalisation of each element to create the perfect shower. The purpose of this personalisation, which we call Aqua Therapy, is to focus on relaxation, refreshment, and recharging.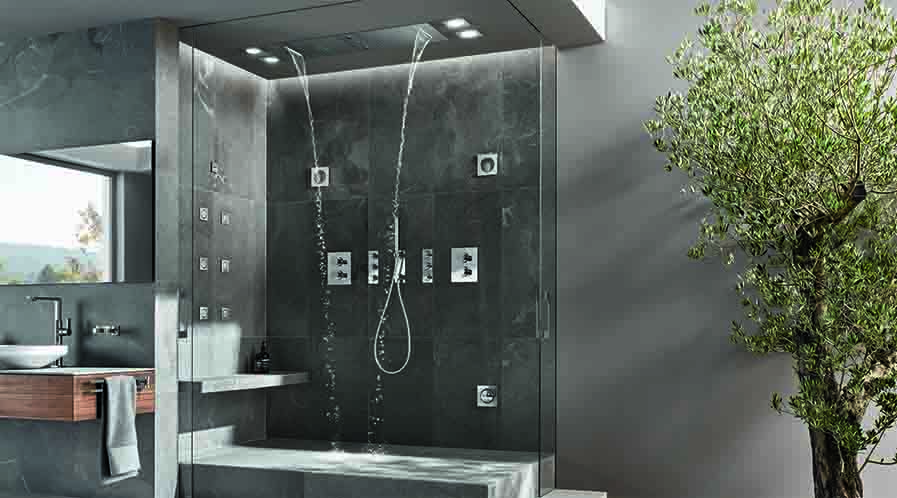 Sustainability has been a key concern among the key stakeholders, especially in the high-end bath products segment. However, water is a key element in providing the best showering experience. How are you balancing the two in the Grohe Spa range of products?
Sustainability is one of our core principles for us at Grohe. As leaders in the bath industry, we take it upon ourselves to set the standard when it comes to water conservation and sustainability in all our processes.
With the Grohe Spa, we are extremely conscious and cautious to offer only responsible luxury. For instance, the showering modules have been designed and engineered in such a manner that they consume less water than other similar-sized showers in the market, without compromising on the user experience.
In fact, they enhance the user experience through innovative features like pulsating nozzles, drizzle mist, and so on. It is also important to keep in mind that when you mix and match multiple shower modules together, while it does create a large showerhead, at any point in time, the user is only turning on one or two flows simultaneously. Hence, it is not the overall size of the showerhead, but the experience that governs the usage of water, and the Grohe Spa Rainshower Aqua offers a superior experience at lower water consumption.
Integration of IoT in Bathrooms is being hailed as the future of washrooms offering added convenience. How poised are you to ride this wave?
Our daily lives are growing more and more reliant on technology. The COVID-19 outbreak has also accelerated the deep technological integration into our lives. The use of smart solutions such as smart showers, smart faucets, and smart toilets is increasing because people are spending more time at home. Modern high-tech faucets and showers come equipped with digital interfaces that provide users control over the water flow, temperature, light and sound.
Grohe has always been known for setting the innovation standard in the industry and is constantly one step ahead of the curve. Grohe recently launched the Digital Plus, a faucet with a digital display that indicates the water temperature. We have always demonstrated that design is not just about beauty, but also about vision. Every detail of the Plus digital faucet is precise and clear, including the integrated temperature display. The Grohe Sensia Arena shower toilet is another cutting-edge product that is taking the levels of comfort, convenience and hygiene in the toilet area to never-seen-before levels. The Grohe SmartConnect is an innovative product that offers users the ability to control the showerhead through a handy Bluetooth remote that can be placed anywhere at a convenient spot in the shower area.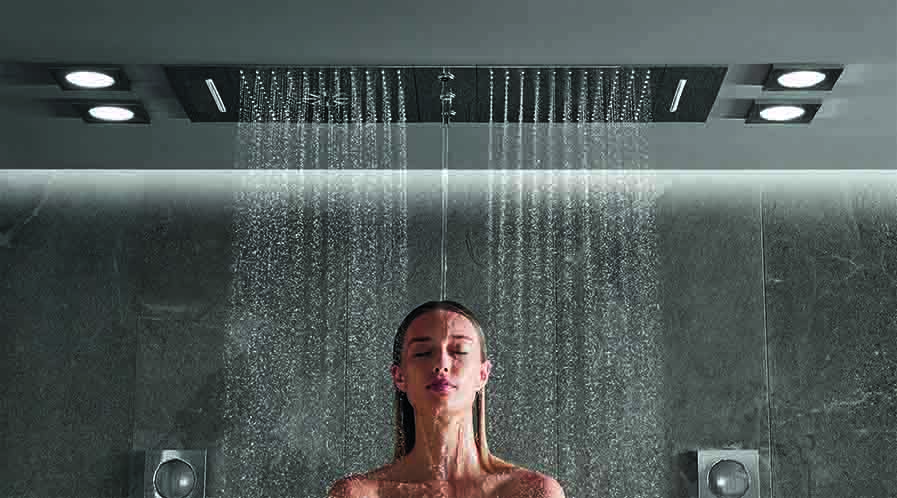 While bathrooms are becoming colourful, a pop of colour is being added to the bath products themselves. What is your take on this trend?
Colours are trending in the bathroom. When it comes to faucets and showers, chrome is a classic finish that never goes out of style. However, more classic finishes, such as black, polished gold, brushed gold and rose gold, are becoming more popular as an alternative to shiny chrome.
The newly launched Grohe Colours faucets and showers are gaining immense traction amongst customers, architects and designers. Our colour products are designed, engineered and manufactured in Germany. Some of the most popular designs – Grandera, Eurocube, Lineare, and Essence are the ranges available in the most desirable finishes and colours.
However, we must understand that these colours and finishes are required to be adapted to country-specific challenges. At Grohe, we take pride in understanding the needs of our customers and providing luxurious yet durable solutions to address these needs. For instance, colours like matte black usually tend to look unsightly due to hard water deposits and stains. As a solution, the black finish we offer under the Grohe Colours range is a subtler PVD coating, which does not accentuate hard water stains as much as powder or lacquer-coated finishes.
In the sanitaryware or ceramics segment, white is still the king, and other shades/colours of ceramics haven't really gained interest among consumers and designers yet.
From where are you sourcing the Grohe Spa range of products?
Grohe products are imported from our own German factories, and they are manufactured to the most stringent engineering and quality standards that Grohe is known for worldwide. Our world-class ceramics factory based in Vijayawada produces some of our top-selling products under the Grohe and American Standard brands. Over the next few years, we expect the Indian factory to cater to a majority of our domestic ceramics demand.
How you are planning to market the Grohe Spa range of products?
In India, we operate in three channels – Retail, Distribution and Projects. In the Retail channel, we have close to 350 Retail showrooms that sell directly to end consumers. In the Distribution channel, we have close to 2500 sub-dealers who source our products from Distributors. The Project channel caters to larger institutional orders in residential, hospitality, commercial and government projects.
Grohe Spa being our flagship range at premium price points will be offered primarily through our top Retail partners across the country.

Bobby Joseph
Leader, LWT, India and Subcontinent (Grohe & American Standard)
"With the launch of Grohe Spa Rainshower Aqua, we are aiming to introduce the concept of personalised luxury in the bath space. The consumer can now tune into his/her very own blissful experience by mixing and matching the spray modules to create a highly personalised showering experience as per their mood and desire." 
Experiential retailing has emerged as an important tool in high-end bath product marketing. What are your plans on this front?
Cars cannot sell without test drives, Consumer electronics cannot sell without live demos. Similarly, a luxury shower cannot sell without offering a live touch and feel of the product. Premium customers demand an elevated experience and at Grohe, we believe in providing the best. Each of our Grohe retail showrooms offers this touch-and-feel experience to end users and specifiers alike.
In addition to this, last year, we opened doors to a world-class experience centre – The LIXIL Studio (TLS), a state-of-the-art, 13000 sq. ft. innovation and display centre located in the heart of Bengaluru. Since COVID, the world has moved on to a phygital model and we are in sync to offer the most comfortable and convenient solutions to our customers. Hence, we have launched the experience centre online so one can access the studio at any time from any place at his/her convenience.
We have also launched the industry's first digital store in Gurgaon, from where we offer a complete 3D-enabled immersion into our brands and products in a comfortable environment. To enable our customers and designers to create their own showering experience in Rainshower Aqua, we have also created an online configurator that allows them to mix and match modules to personalise configurations.
How do you see the industry moving in the next 5 years? What are your plans?
The bathroom industry has bounced back strongly after the pandemic. In fact, we at Grohe India, registered strong growth in the last financial year, with historical highs recorded across channels and product categories. All parameters of our business touched record highs. According to our estimates, while there might be a few challenging disruptions in the short to medium term, the long-term outlook is extremely positive. The real estate and housing sectors continue to grow strongly, which augurs well for our industry.
We are planning to double our distribution network in the next four to five years and to maintain our leadership position in the premium and luxury segments we cater to.