H & R Johnson (India), one of the leading players in the ceramics industry, has recently launched their new and innovative range of premium sanitaryware and faucets – Johnson International in an event held in Goa.
Besides the senior management from the company, Bollywood actress and Johnson's Brand Ambassador Katrina Kaif was also present on the occasion.
"H & R Johnson has always been known in India for its quality consciousness and innovations. We are keen to increase our presence and market share in the bathroom products segment. Launch of the Johnson International collection is one of few steps that we are taking in that direction," said Sarat Chandak, ED and CEO of H & R Johnson (India) Division of Prism Johnson Ltd.
Pankaj Sharma, President and Head of Johnson Bathroom & Kitchen division said, "The Johnson International series of sanitary ware and bath fittings is positioned in the affordable luxury segment which is the fastest growing segment in India. Aspirations of having truly International products at a reasonable premium is our USP and we are confident of doing good business."
Dinesh Vyas, Marketing Head of H& R Johnson (India) said, "'Brand Johnson is positioned as the best in class Home Lifestyle Products Company and we understand that important elements of today's lifestyle are – Aesthetics, Hygiene, consciousness for environment, safety and freedom to choose from a wide range of options. Not only does the Johnson International brand bring this equilibrium of Lifestyle elements but the consumers would also love the experience of these international luxury products without being over charged for uniqueness and class."
Speaking about the presence of Johnson's brand Ambassador, Katrina Kaif, Vyas said,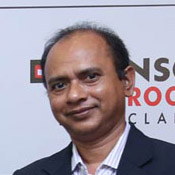 Dinesh Vyas
Marketing Head
H& R Johnson (India)
"Katrina and Johnson have quite a few things similar like – style, performance, and class and of course UKis also a common factor! We are delighted to have Katrina in today's launch function."​
We are delighted to have Katrina in today's launch function where 200 of our channel partners have come from across the country."
Speaking at the launch, Katrina Kaif said, "I am glad to be in Goa for the launch of Johnson International. The company and I share a common goal – commitment to excellence. My home is my personal space. It's my retreat and at the end of a long day at work, it always feels good to be home. And, Johnson is one of the most trusted and globally renowned home lifestyle brands."