The Luxury of Outdoor Showering
Developed in collaboration with Philippe Starck, the Axor Starck Nature Shower range offers its users the pleasure of open-air showering.
In a world that seems increasingly dominated by technology and urban landscapes, there is an undeniable appeal to reconnecting with nature. In this context, the demand for 'outdoor living' continues to grow as more people recognise the importance of nature in modern life and seek new connections with it. Lifestyles are increasingly shifting outdoors—a trend that goes beyond the bathroom.
As people increasingly seek to create outdoor sanctuaries, outdoor showers have emerged as a popular feature. It offers a tranquil refuge and a chance to reconnect with nature. Beyond their aesthetic appeal, they provide a multitude of benefits, from promoting well-being and sustainability to enhancing the overall outdoor living experience.
Axor Starck Nature Shower
Celebrating the luxury of open-air showering, Axor Starck Nature Shower, developed in collaboration with Philippe Starck, is a beautiful amalgamation of smart technology and design, as it can be placed indoors as well as outdoors.
The Axor Starck Nature Shower collection consists of a total of three design variants: two for outdoor use, of which one comes with a hand-held shower, and one product for indoor use. The indoor and outdoor variants with hand-held shower adapt even better to individual wellness needs.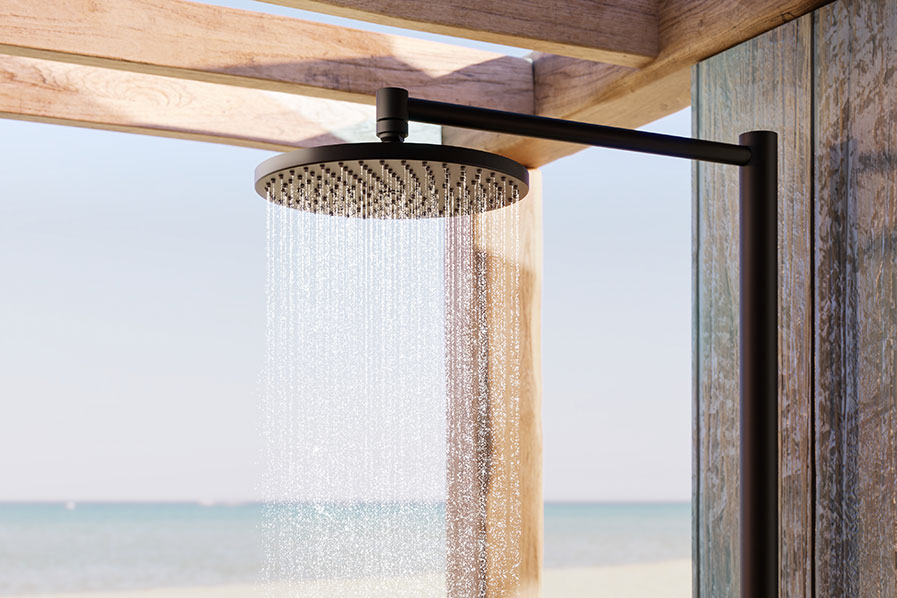 An icon in a new living space, the simplicity of the design language is underlined by the consistent use of basic shapes; the cylindrical handles can be used to set the temperature, as well as set water volume and shower head selection. Built in with Powderrain technology, the shower reflects the beauty and stratification of nature.
The showerhead comes with an effective drainage system, thereby, allowing the product components to withstand the elements. Thanks to the ease of assembly and disassembly, the shower column can easily be stored indoors at temperatures below freezing. The water jet is reminiscent of a soft summer rain, whisper quiet and light as a feather.
Outdoor luxury for individualists
With the Axor Starck Nature Shower column, all functions are united in one linear design, creating the impression that the water comes directly from a pipe. The minimalist design language—a unique combination of circle and cylinder forms—help transform the outdoor shower into a design object that blends harmoniously into any environment.
The timeless, iconic design built in with an extremely slim shower bar blends elegantly into a variety of settings such as the home garden, the urban terrace or even the private yacht. Furthermore, the showerhead can be mounted on individually selected materials for the back wall, from glass to stone and metal to wood.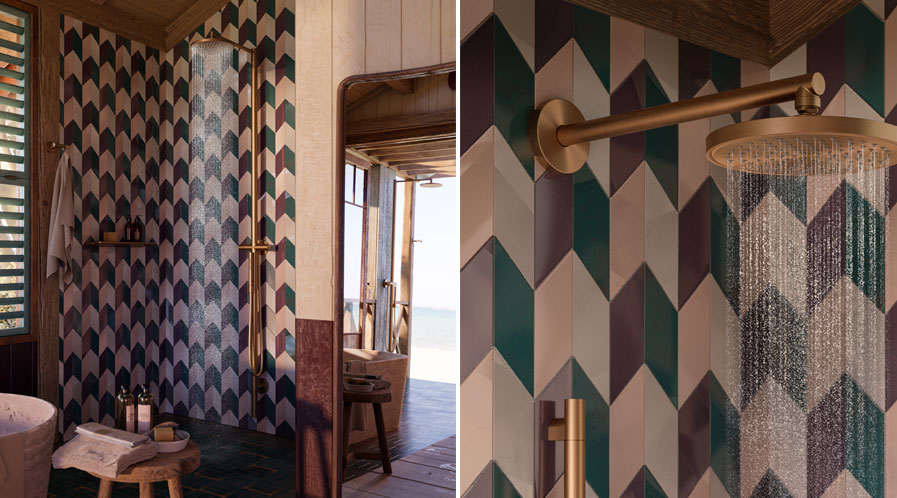 Available in a variety of weather-resistant finishes such as Matt Black, Brushed Bronze or other Axor Finishplus finishes, the range not only makes a great product for its durability but also impresses with its colour brilliance.
For a holistic bathroom design, Axor Uno, Axor One and Axor Starck faucet collections match the minimalist design of the Axor Starck shower columns for indoor and outdoor use.