A young couple wanted an independent home above their family home bungalow. "We developed an open plan incorporating 2 bedrooms, a Family Room, a Formal Drawing/Dining, a study and Kitchen/Utility," shares Bandna Singh, Principal Architect, Positive Axis.
She further adds that the brief was to design a large Dress cum Toilet with a lot of wardrobe space and a lot of natural light. The designer punched out a large roof skylight in the middle of the dressing area which gave a fabulous amount of natural light into the space along with a bay window to accommodate a tub. This is the key highlight of the washroom.
"We added a couple of Durries on the floor & Polished Teak wood in cabinetry which added to the warmth of the spaces. It is functional and feels like an extension of the master bedroom space, warm and comfortable," adds Bandna.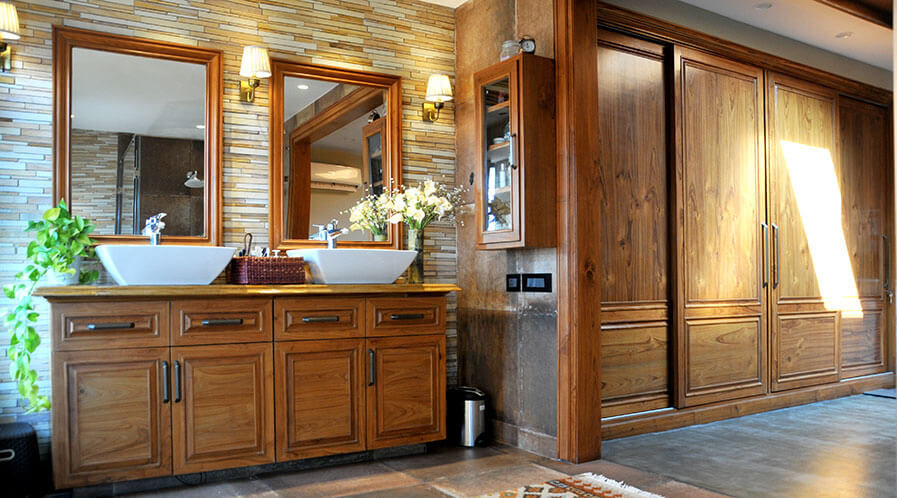 Project Location: Sector-27 A, Chandigarh
Size: Washroom: 8'-6"x15'-0" & Dresser: 12'-6"x15'-0" (Total Size 21'x15')
Materials used: Floor: Rustic tiles/ Anti-skid (Nitco); Wall: Rustic Matt Tiles (Nitco), Wall Cladding highlights in Stacked Teak stone and Mint Gwalior stone; CP Fittings – Grohe; Chinaware – Toto; External Glazing – Schueco; Internal Joinery/Cabinets – CP Teak Wood
Design Firm: Positive Axis, Chandigarh
Design Team: Bandna Singh, Madhu, Keshav Kapoor
"We added a couple of Durries on the floor & Polished Teak wood in cabinetry which added to the warmth of the spaces. It is functional and feels like an extension of the master bedroom space."