Washroom Tech Rises to the
Hygiene Challenge
Covid has brought about a new normal almost everywhere. The washroom space with its attendant hygiene issues has turned into a focal point for such efforts. The washroom industry and manufacturers have confidently risen to meet the threat head-on.
When it comes to the washroom, hygiene was always a sensitive issue – and not just in Covid times. However, the global pandemic experience is focusing so much attention on cleanliness in the washroom that the hygienic features of the products are taking on greater importance. The concern is not just for consumers who want to renovate their homes but for architects and planners involved with public and commercial projects as well.
The hygiene features of sanitary ware provide benefits not just in terms of promoting health but also due to their impact on care requirements, barrier-free accessibility and, above all, the sustainability of the washroom. Hygiene functions often come hand in hand with the digitalisation of home-related functions and are increasingly invisible in the design.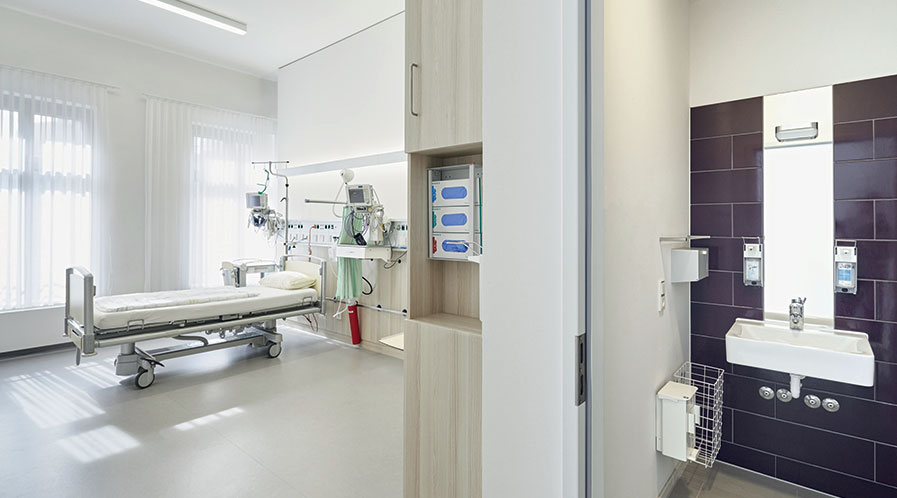 The hygiene issue is back in the spotlight
In addition to modern sanitary ware and other furnishings and equipment, various care measures and simple dos and don'ts like airing out the room also play a role in preventing the washroom from becoming a breeding ground for unwelcome germs and bacteria as a result of the warm and humid environment.
In the semi-public and public space, hygiene is of even greater relevance right now. The hospitality sector needs to develop new hygiene concepts, and many sanitary facilities for offices, event locations or public places need to be adapted and retrofitted to meet the increased hygiene requirements. The washroom sector thankfully now has numerous solutions to offer for both the private and semi-public sphere.
"The hygiene features of sanitary ware provide benefits not just in terms of promoting health but also due to their impact on care requirements, barrier-free accessibility and, above all, the sustainability of the washroom."
Ease of care and eco-friendliness: essentials of care
Thanks to the latest antimicrobial technologies and surfaces, cleaning is no big deal nowadays. Special ceramic finishes are available for washbasins and toilets, for instance, making them significantly easier to take care of. For example, in KeraTect from Geberit or AntiBac and CeramicPlus from Villeroy & Boch the coatings are baked into the ceramic and prevent dirt and lime scale from adhering to the surface. As a result, any residue is effortlessly washed away by the water. And according to the manufacturers, these finishes significantly inhibit bacterial growth as well.
There are similar solutions that prevent microbial growth on vanity countertops and toilet seats too. Modern toilets are also equipped with a flushing system that doesn't require a rim, thereby eliminating a favourite hiding place for bacteria and germs. More eco-friendly cleaning is another benefit: aggressive toilet cleaners are largely superfluous.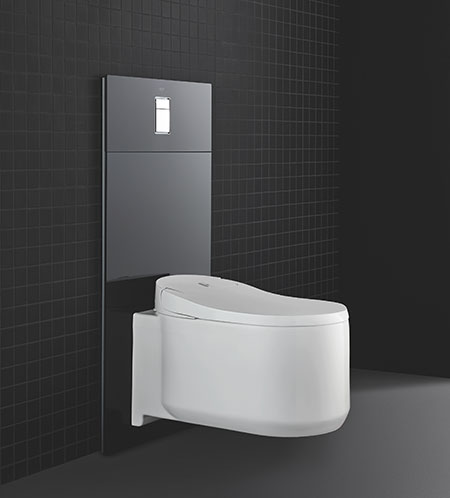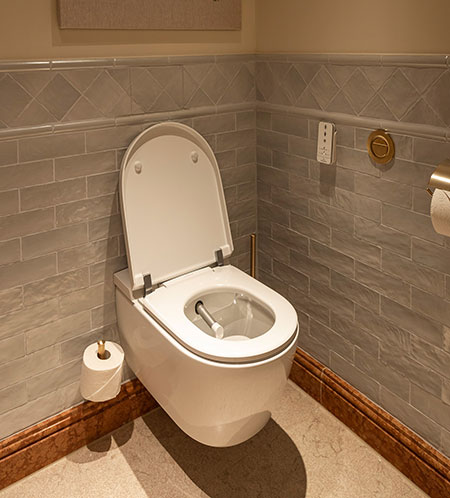 In terms of minimising hand contact with surfaces, digitalisation brings major advantages, especially when it comes to the toilet and fittings. The sensor technology behind various flush plates, for instance, allows the flush to be activated without any contact at all (e.g. Visign for Style 25 sensitive from Viega). Instead, the user triggers the flush by swiping their hand over the required function which is accentuated by a grid of illuminated points. Villeroy & Boch offers a toilet that can think for itself and activates the flush autonomously if the user forgets or isn't able to do so. This prevents germs from building up in stagnant water when the building is vacant or its occupants are travelling.
Modern shower toilets are often equipped with more functions than just touchless flushing. Many of them are available with optional features that mean the user doesn't even have to touch the lid – such as Grohe's Sensia Arena model. Thanks to sensor technology, the lid automatically opens when the user approaches and closes again afterwards. Some shower toilets even have a Bluetooth interface (e.g. Mera from Geberit) and can be controlled via a smartphone. And besides the technological progress that's been made, the standard of cleanliness that has been established by the growing acceptance of shower toilets definitely represents cultural progress as well.
 The targeted and thorough intimate hygiene achieved with a pulsating jet of water conveys an everyday feeling of freshness. Depending on the features chosen, some shower toilets even have an integrated self-cleaning function.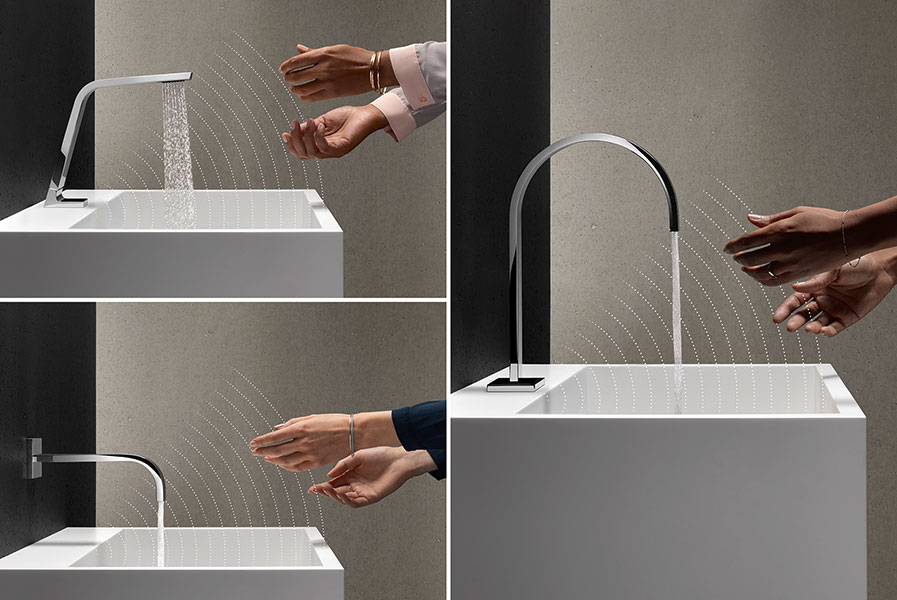 Touchless gains prominence in Covid era
Besides improved hygiene, another benefit of touchless faucets becomes apparent when it comes to the effort required to clean washbasins and fittings: because the user doesn't have to touch any control elements, their hands generally stay under the spout during washing, which prevents water dripping off of their hands and onto the mixer. This results in fewer water marks and lime scale deposits on the surface of the fitting, which makes for easy cleaning. In addition, several models from Kludi allow the sensor to be deactivated while the basin is being cleaned.
A virtually touchless hygiene concept can be implemented in private bathrooms. Even soap can be used without having to touch anything – thanks to touch-less soap dispensers like the one from Keuco's Plan series. In addition to its function as a washbasin dispenser for foam soap or foam disinfectant, it can also be used to dispense hygiene foam for toilets. And hygiene foam is a simple way to transform ordinary toilet paper into a wet wipe that can be flushed down the toilet without causing blockages – a particularly interesting aspect for toilets in public places where shower toilets are out of the question.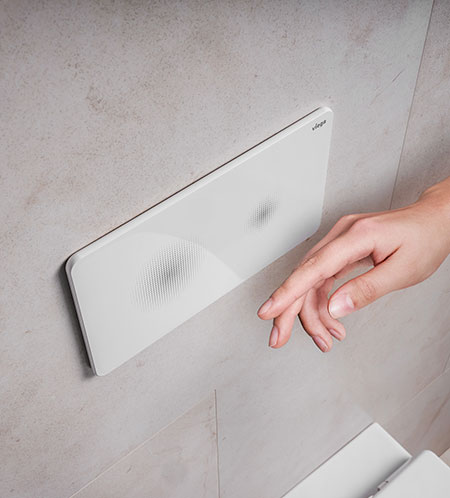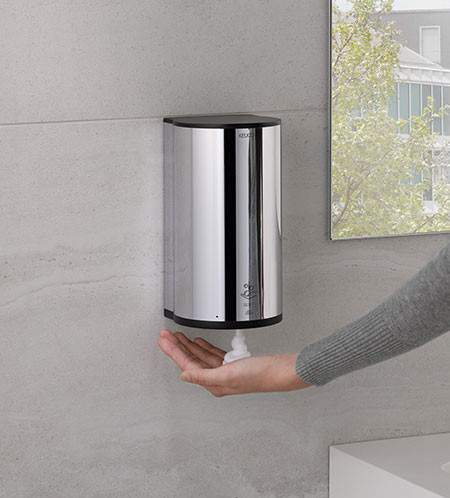 Touchless faucets are therefore a good alternative for making the vehemently propagated precaution of hand-washing more hygienic. The fittings hardly look any different from conventional models nowadays: thanks to the ongoing miniaturisation of sensor technology, the design of the taps can be adapted to the architectural setting.
Dornbracht goes one step further with its Touchfree variant, which is compatible with all the manufacturer's fittings series. Because it's based on high-frequency technology, the system can detect motion even without an infrared eye. The HF sensor is positioned under the washbasin and is therefore invisible to the user.
Functions like the temperature setting, shut-off time or cleaning stop are adjusted via a separate system box connected to a power supply. The range of the sensor can be adjusted to the operator's requirements or the characteristics of the room.
The Covid aftermath has done at least one good thing. It has further spurred the enthusiasm for better and more innovative ways to tackle hygiene challenges. For sure, the washroom industry will not be found wanting on that front.
(With inputs from Pop up my Bathroom, an initiative of the German Sanitary Industry Association (Vereinigung Deutsche Sanitärwirtschaft e.V. [VDS]) and Messe Frankfurt)