An Interplay of Light & Shadow
This Bathroom belongs to a Bungalow, which is located in a society. The Bathroom location is in the front side in close proximity to the common road of the society. "Accordingly, we planned and designed the elevation, thus maintaining privacy and incorporating maximum amount of natural light throughout the day," shares Sanjay Newaskar and Mansi Newaskar, Principal Designers, Sanjay Newaskar Designs LLP.
The plan of the toilet is in between the walk-in wardrobe and Bedroom. Being a jeweller, the client wanted to separate walk-in wardrobe from Bathroom for safety issues. "The layout is divided into 2 parts with a long passage which leads to the walk-in wardrobe. One side is the wash basin with a running top and on the other side a separate WC area and shower area. The Bathroom flows visually between the bedroom and the walk-in- wardrobe. All three zones are totally separated, where they can be used individually," shares the designer duo.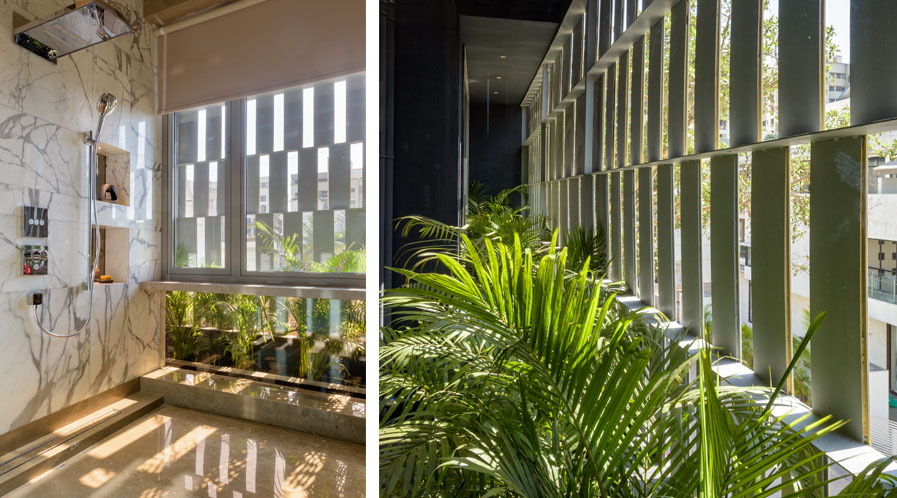 Shower Area: The shower panel wall is entirely cladded in white Statuario. It is flooded with natural light all through the day, creating shadows and depth that arise out of a response to the sun path. The new shower application offer a comfort level for bathing as these are a combination of Raindance Rainfall 240 Air 3jet – with Rain Air, Rainflow and Whirl. The system is operated using control elements, that is, a display panel to select the type of shower. And, an integrated shower tube with a Raindance Jet hand-shower enables a variety of additional regenerative and soothing applications.
A double drain system with pop up effect was designed in 2 levels to create a relaxing feel of rain drops on accumulated water. A stone seating in Statuario is designed just opposite to the shower panel to relax. For energy efficiency, solar panel is used for hot water.
WC Area: A Duravit wall-hung commode is used and this area is also flooded with natural light and good amount of natural ventilation all throughout the day.
The Dry zone: The dry zone is also characterised by minimalistic design and a high level of functionality. The basin, self-designed in combination of Grey Armani & Statuario, adds a luxury quotient to the bathroom. The running panelling in veneer and a corner panel in combination of Brown and white mirror creates an inviting atmosphere.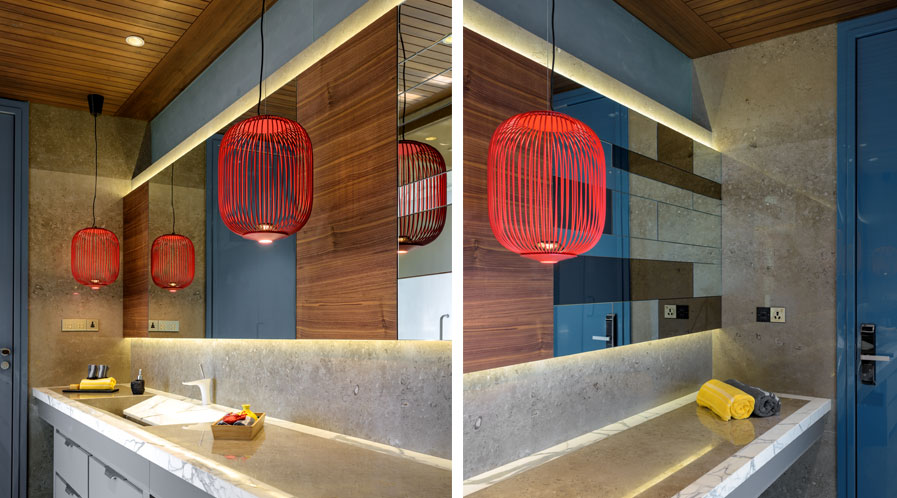 Ceiling: Trap door wooden ceiling is designed in American Walnut wood to cover the AC units.
Colours: To break the monotony, Bright colours like Aqua Blue in continuity with the Bedroom concept and bold red colour hanging lights are used.
Lighting: Natural light floods in all throughout the day minimising use of LED lights, making it energy efficient. Integrated strip lights and spot lights create the perfect mood in accordance with the user's personal preferences. Bright colour hanging lights adds to the moods.
Project Location: Sujay Garden, Pune
Size of the washroom: 220 sq. ft.
Materials used: Stone – Armani Grey with a combination of Statuario Marble; Wood – American Walnut Veneer / Walnut wood; Tap – Hansgrohe Puravida; Shower – Hansgrohe Raindance; WC – Duravit Durastyle
Design Firm: Sanjay Newaskar Designs LLP
"The layout is divided into 2 parts with a long passage which leads to the walk-in wardrobe. One side is the wash basin with a running top and on the other side a separate WC area and shower area. The Bathroom flows visually between the bedroom and the walk-in- wardrobe."