This space is designed to be a combined dressing area and washroom. Different functions incorporated in the space were segregated and oriented for optimum utilisation of the space. The key feature of the washroom is the amount of natural light coming directly in the shower and WC cubicles and filtered light in the dressing area.
Talking about the design brief, Chirashree Thakkar, Principal Architect, Thakkar Associates shares, "The client wanted this washroom to be designed for his son's bedroom. The son was in his mid-twenties and studying. This was going to be his permanent bedroom." This space was designed for client's son keeping in mind his transition from a young boy to a married man. It is designed to be adaptable to growing requirements without compromising the quality of space.
She further adds, "We separated the shower area and WC on either side of the duct to allow maximum natural light which gives the feeling of a larger space to the user. The wooden finishes and earthy colour combinations were used for the interior to grow with age and endure with time. This colour palate also provides possibilities of adding new materials and evolves over a period of time."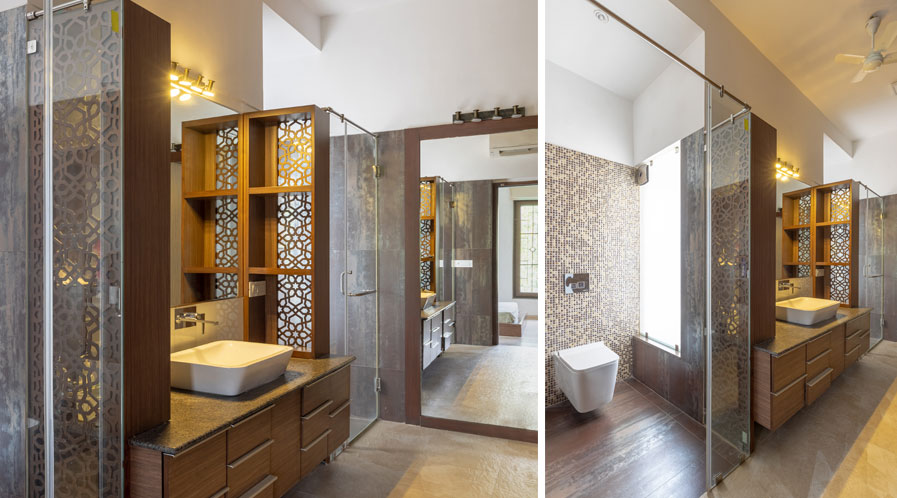 The jaali is used as a partition on either side of the wash basin. "This was done to break the linearity of the space without obstructing it visually. The jaali pattern and openings were designed keeping in mind the sense of segregation to be achieved. The jaali gave an identity to the space," explained the designer.
The design is fundamental and contemporary. "It was designed to be a multi utility space by providing washbasin mirror and using it as a part of dressing area," adds Chirashree.
Project Location: Ahmedabad
Size of the washroom: 149 sq. ft.
Materials used: Wood, Glass, Mosaic tiles
Design Firm: Thakkar Associates
"The wooden finishes and earthy colour combinations were used for the interior to grow with age and endure with time. This colour palate also provides possibilities of adding new materials and evolves over a period of time."