Luxurious and Understated
A balanced blend of exotic marble and hints of metal added the perfect touch of subtle elegance. "Luxurious and understated was the desired look as quoted by the client. The lavish spread of the bathroom encompassing a large jacuzzi tub a separate shower area and a walk-in wardrobe, the sheer volume of the space itself is the USP of this luxe bathroom," states Sumessh Menon, Founder & Principal Designer, Sumessh Menon Associates.
He further shares that although the term bachelor pad evokes a lot of leather and metal and glass to mind, this project is a unique design rendition where the challenge lay in the design toeing a fine line between a clutter-free bachelor pad and a luxurious, possible future family home, which was achieved using understated plush elements while at the same time maintain its simplicity of design. "A very neutral colour palette in muted shades, greys, beiges and cool blues has helped to tie in the entire space together as a single elegant bachelor home!"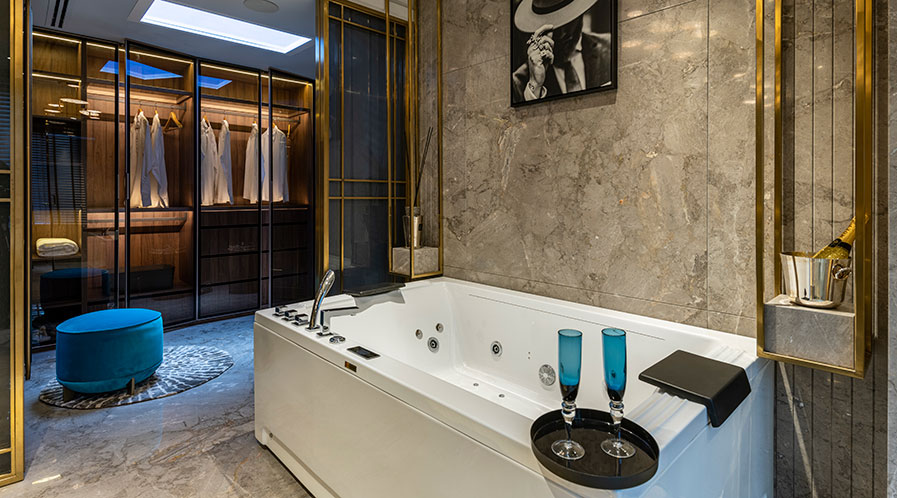 The master bedroom encompasses a cocoon-inspired sculptural headboard customized in woven leather that adds drama to this muted luxurious bedroom complete with a plush walk-in wardrobe to go with its elegance.
All in all, the understated luxury design is enhanced using modern design elements, sleek furniture, muted tones and just hints of plushness added in the form of materials like marble and brass.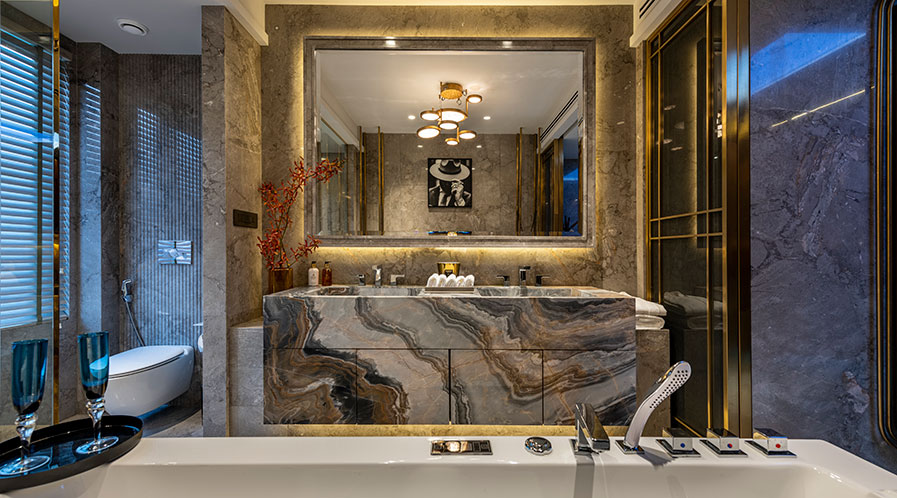 Project Location: Juhu, Mumbai
Size of the washroom: 185 sq. ft.
Materials used: Marble, Glass & Metal
Design Firm: Sumessh Menon Associates
"This project is a unique design rendition where the challenge lay in the design toeing a fine line between a clutter-free bachelor pad and a luxurious, possible future family home, which was achieved using understated plush elements while at the same time maintain its simplicity of design."