The interiors of the bathroom play an important role in creating a stylish looking space. With the right lighting, materials and accessories, a bathroom can be transformed into a space fit for Royalty. This luxury marble bathroom design is an interesting combination of Royal and Modern theme design. The master toilet is part of a residential project from Surat.
Talking about the brief, Ketan Sheth, Founder, Managing Director & Principal Designer of Goldmine Project Consultant shares, "Some design necessities were unique and giving the homeowner's percept what they want is of utmost importance here. Planning colours and designs with the family helped us understand their requirements and it brought us all together and was a fun process, too!"
He informs that the carpet size of the master toilet is 180 sq. ft. which includes toilet and walk-in wardrobe with dressing table as well. The shower area, water closet and washbasin counter are spaced apart, with room for movement.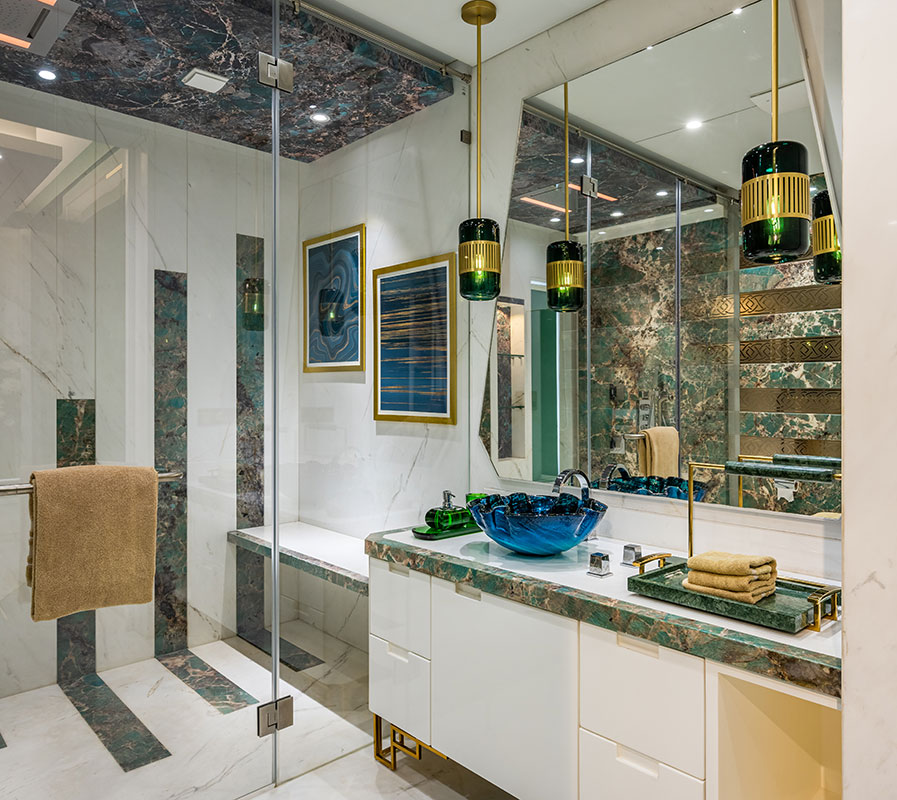 This bathroom is in complete imported marbles that are Exotic Green Stone and Lasa White with a balanced use of mirror, glass and lamination finish furniture. "A white marble makes a bathroom seem large and bright. Green Stone is used as a highlighter to craft design. White marble is the best and most exquisite material for a bathroom design due to its appearance and durability," shares Ketan.
The glass design premium basin becomes an exquisite decorative piece for the bathroom in the charming blue colour. He further adds, "Beautifully shaped mirror with lamination finish vanity, decorative pendent lighting, air conditioning with customised laser cut AC throw grills and open niches for accessories are somethings you would want to relish permanently in your bathroom. Every detail decorating this fabulous bathroom adds depth and a sense of comfort."
Project Location: Happy Excellencia, Vesu, Surat
Size of Washroom: 180 Sq. Ft.
Materials Used:  White Marble & Green Stone
Design Firm: Goldmine Project Consultant
"Some design necessities were unique and utmost importance was placed on what the homeowner wanted. Planning colours and designs with the family helped us understand their requirements and it brought us all together and was a fun process, too!"