The main theme of the bathroom is 'free form'. A tall stone-cladded pillar has provision for a shower which divides the shower area and bath tub. Small seating is provided on the periphery of the shower area. Indoor plants line up the window of the bathroom. All the walls have random polygon-shaped white marble and silver grey travertine marble cladding. Pieces of silver grey travertine marble fit in like a puzzle to form the random 3D polygon in a dry area.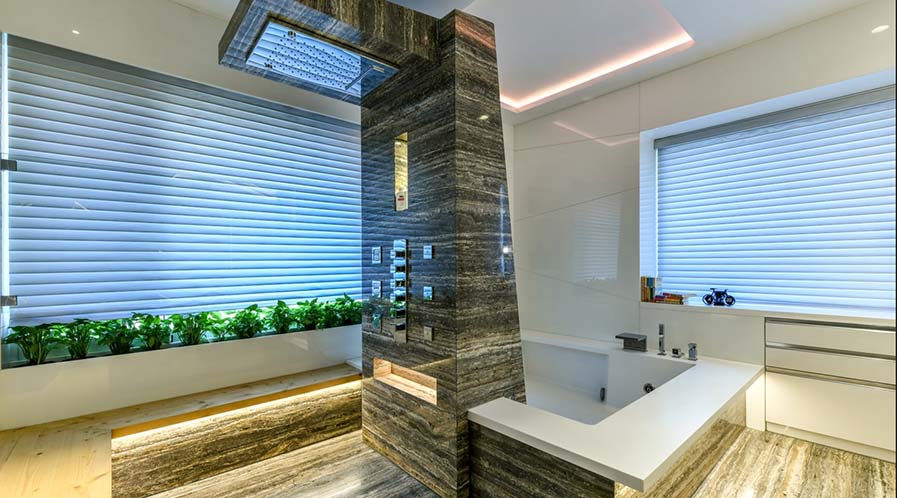 The Layout
The bathroom is designed for a 12-year-old boy who is very enthusiastic and a football player. The bathroom is divided into three areas
Dry area – Washbasin, WC
Tub + Bath area with waterfall flow.
Shower area with rainfall shower and jets.
The layout of the bathroom divided into two parts
Functional area – washbasin
Recreational area – The bath tub.
"The idea was to have indoor space for him and his friends to enjoy the shower after coming from play. Rocky polygon shapes give the idea of the adventure with lights inside. Niche Ceiling cove has LED lighting which changes colours as per the music," explains Ajit. 
Project Location: Mumbai
Size of the washroom: 3575 x 3535
Materials used: Silver grey travertine, Corian, White artificial marble
Design firm: Ajit Gupte – Architects, Planners, Designers

Ajit Gupte - Architects, Planners, Designers
"The idea was to have indoor space for him and his friends to enjoy the shower after coming from play."